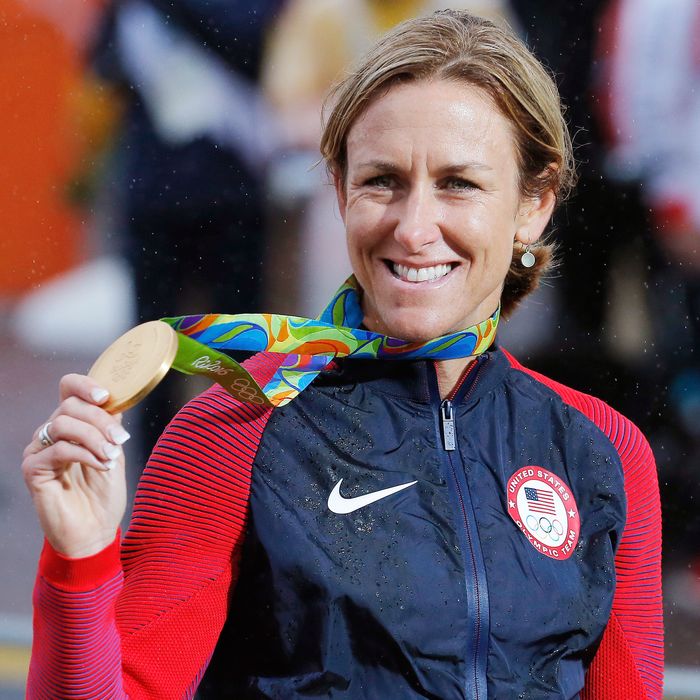 Kristin Armstrong with her third gold medal. What have you done with your life?
Photo: Tim De Waele/Getty Images
After Kristin Armstrong won the Olympic gold medal in the women's cycling time trial, she told reporters that she'd faced questions about why, at 42, she'd come out of retirement to compete, despite her age (she was the oldest woman in the field by seven years) and multiple hip surgeries. According to NPR, Armstrong simply told them, "because I can."
On Wednesday, Armstrong — who turns 43 today — became the only cyclist, male or female, to win three consecutive gold medals in the same event — she won in 2008 and 2012 as well. But she called this victory "the most gratifying." "I think that for so long we've been told that we should be finished at a certain age," she said. "And I think that there's a lot of athletes out there that are actually showing that that's not true. For all the moms out there, I hope that this was a very inspiring day."
Armstrong, whose son was born in 2010, said that being a mother, along with working as the director of community health at a hospital in Boise, Idaho, keeps her grounded. "[It] has been my secret weapon," she said. "It provides me balance and it keeps me on track and it keeps me super-focused."
She rode in the lead of the pack throughout the race, but Armstrong told NPR that toward the end her coach radioed her to say, "You're in the medals. Now it's up to you what color you want to bring home." "That really hit me hard," she said.