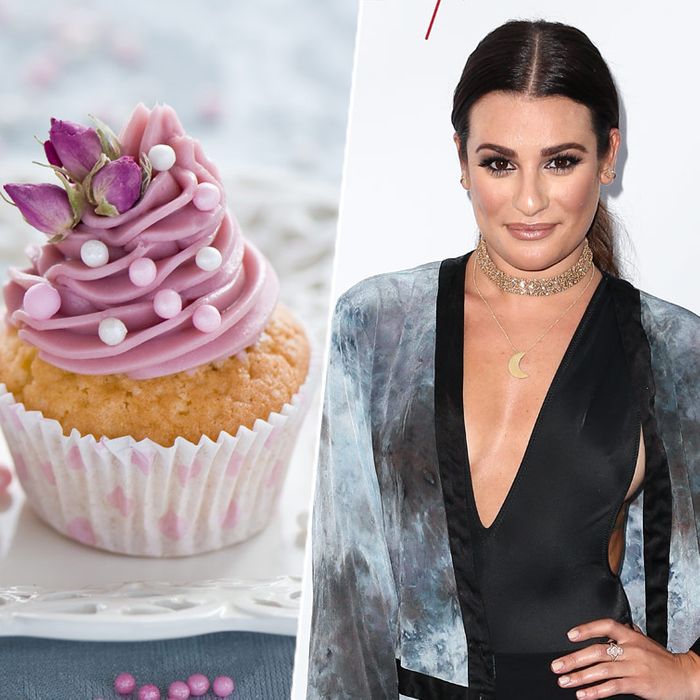 Elizabeth Olsen, mini cupcake, Lea Michele.
Photo: BFA; Getty; BFA
On Sunday, Hollywood producer Jennifer Klein hosted her annual "Day of Indulgence" party at her home in Brentwood, California. What is a Day of Indulgence party? It is an event where famous actresses get together to laugh and chat and sample products provided by companies that would like press from famous actresses. This year, J.Lo, Lea Michele, Elizabeth Olsen, and most of the cast of Pretty Little Liars showed up to sample the latest and greatest hairsprays, makeup items, period underwear, etc. But I'd like to talk specifically about the snacks.
Just Jared helpfully provided a list of the food items served at the party, which will haunt me so long as I live. Here it is:
There were a bunch of sweets for the celebs to munch on, including Jenis' ice cream sandwiches (which Shay was spotted enjoying), Teebsie Popsicles, Cookie Chips, barkTHINS, Megpies, Sprinkles mini cupcakes, and Suja juices. Lizzie was seen eating a salad by Chop't while getting a massage from the Caudalie spa station.
Uhhhhhhhh, are you for real.
Every snack marketed to women now is named after a '90s sorority girl or another word for thin or just the word thin. Jeni sandwich. Cookie CHIP. Teepsee toopsee popsicle and mini-cupcake. Salad. I'm crying.
Please stop naming your ice cream brand SKiNNY CUTiE.
Day of Indulgence. Oh my god.
You know what's a good snack? Cheese and bread.