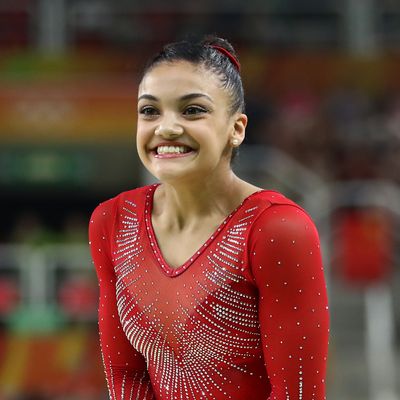 Photo: Lars Baron/Getty Images
Enough has been made of the Final Five's fandom surrounding Zac Efron, but the man has had his moment. Or at least, that's what Ryan Seacrest had to say about the matter during an NBC interview he did with Laurie Hernandez. The two had some pretty normal chitchat at the start of the interview, but then Seacrest brought up Efron as he tried to set a special surprise for Hernandez.
"He has had his moment," Seacrest said. To which Hernandez merely nodded, "Oh yeah."
As it turns out, the Final Five might have no shame in announcing their big crush on Efron, but that doesn't mean he's the only celebrity they're fawning over. (Hernandez, for one, told Seacrest she'd like to get a photo with Usain Bolt.) So instead of talking about Efron, Seacrest asked Hernandez about her thoughts on the The Voice and what coach she liked best.
In what is now a trademark move of hers, she put her hands up to her face (further cementing the idea that she is, indeed, a human emoji come to life), and began sharing. "Well, Adam keeps winning, so I like Adam 'cause of that," she said. (Hear that boys? The girl likes a winner!) "But then, like, Christina [Aguilera] is awesome," she continued. "'Cause, um, even when I was younger, like just in the gym, my coach would put on a Christina CD, and we would listen to her the whole time."
Seacrest didn't have Christina Aguilera on hand, but he did have Adam Levine, who showed up onscreen with a short and sweet message for Hernandez. "What's up, Laurie?," he began. "This is Adam Levine, just wanted to say 'Hello, congratulations.' You're kicking butt out there, and, uh, we've been watching you in the States. Excellent work."