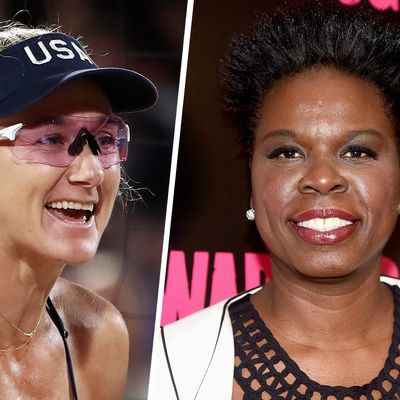 Get ready for the most delightful story of the Rio Olympics to get even better. This week, comedian Leslie Jones's wonderful, enthusiastic tweets about the Games earned her a ticket to Rio. And now it looks like they've earned her an unexpected friendship with beach volleyball great Kerri Walsh Jennings, too.
It all began a couple of nights ago when Jennings, in a bout of insomnia, discovered Jones's many videos cheering her and her partner, April Ross, on, and she came away forever changed. "I was dying!" Jennings told Yahoo Sports. "I love her. She's perfect to me."
Soon Jennings reached out to Jones directly for words of encouragement, and Jones did not disappoint.
Jennings and Ross dominated Australia and then China, for obvious reasons.
Then came the happy news that their spirit coach was coming to cheer them on in person.
They faltered a bit against a tough Swiss team last night — understandably, because Jones was in the air and couldn't watch the match.
And in the true sisterhood spirit of "a rising tide lifts all boats," Jennings has been just as pumped about cheering Jones on in her amazing, inspirational journey to Rio. 
Now all that's left is for them to meet IRL. And if NBC has any sense at all (which it's not clear they do), they'll make sure to capture that magical moment on camera. It's going to be EPIC.