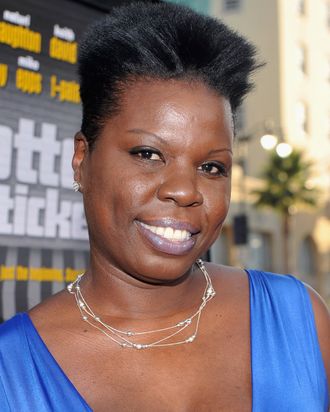 Photo: Alberto E. Rodriguez/Getty Images
After Twitter trolls spewed their racist worst on Leslie Jones, the Ghostbusters and SNL cast member left the social-media network for a short period, while friends, admirers, and just plain decent people came to her defense. But one fan, who is too young to read most of the disgusting tweets directed at her, sent his support the old-fashion way.
Julian, an 8- or 9-year-old child (he was coy about his age in his signature), wrote Jones a letter advising her on how to deal with online bullies. "Forget what they say on the internet," Julian writes with his purple-colored pencil of justice. "They're just jealous. You're a Ghostbuster and they're not." Julian then showered her with praises: "You are a wonderful person and a great actor."
Jones posted the letter on Twitter and replied, "Okay Julian you are so precious I will put this on my board at work!!" Unfortunately, she did not take the time to answer, at least over social media, his postscript: "P.S. I like your smile. And what's your favorite superhero?" Though, it's pretty obvious her favorite superpowered humans are the entire USA Olympics team. Read the letter below.