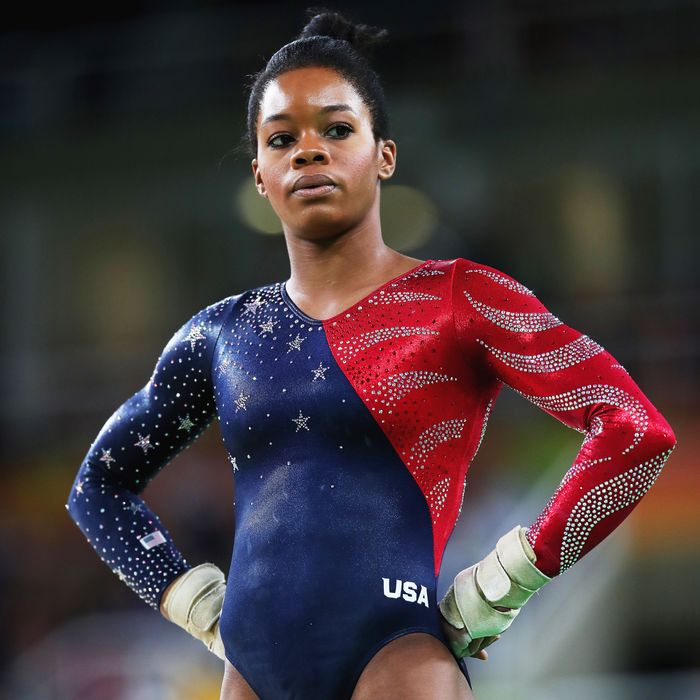 Photo: Tom Pennington/Getty Images
Leslie Jones knows firsthand what it's like to be bullied and harassed in the public space that is social media. So, when she heard that Gabby Douglas, who has earned herself a spot in American history as an Olympic gold medalist, was being bullied on the same platform she once was — well, Jones wasn't going to just sit and be quiet.
So, Jones tweeted out a call for users to rally behind Douglas and show their support for the Olympian. "Yo I just heard Gabby getting attacked on her page show her the love you showed me #LOVE4GABBYUSA," she tweeted.

But first, how did we get here? Things started going awry on social media when users began critiquing Douglas for everything from her hair to her skin to her smile. There were accusations of her being "unpatriotic" after she didn't hold her hand up to her heart during the national anthem. Then there was the nickname: "Crabby Gabby." As her mom put it, "What did she ever do to anyone?"
Finally, Douglas had to address the comments at the Olympics. "When they talk about my hair or not putting my hand over my heart or being very salty in the stands, really criticizing me, for me it was really hurtful," Douglas said through tears. Still, she said she had nothing but love, even for the people throwing hate her way. "I've been through a lot," she said. "I still love them. I still love the people who love me. Still love them who hate me. I'm just going to stand on that."
On Monday, with a little help from Jones, Douglas finally started getting back some of the love she was sending out into the world. Kerry Washington and Shonda Rhimes tweeted out their support for the gymnast, as did plenty of other celebrities and Twitter users. It was a welcome respite from the animosity from the previous days.