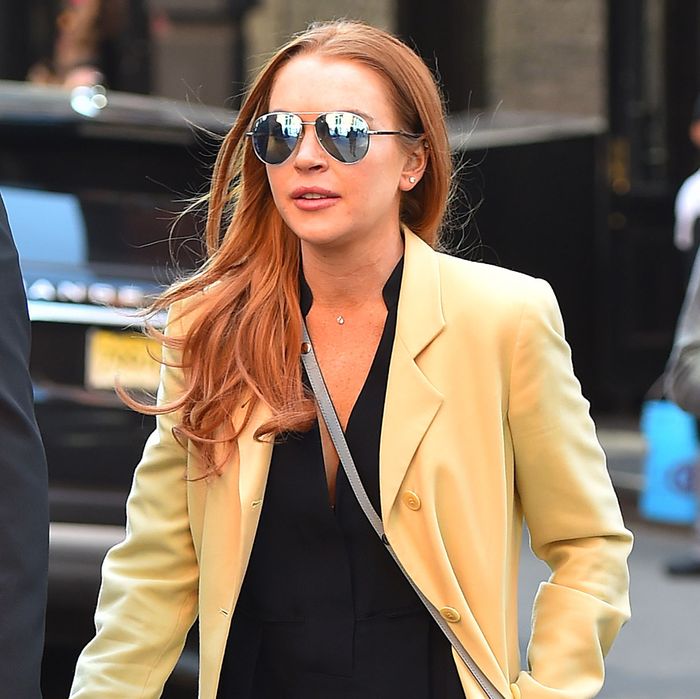 Lindsay Lohan.
Photo: 2016 BuzzFoto
Last week was a crazy one for Lindsay Lohan, which is something you could say every week, sure, but still, it was. In a series of now mostly deleted tweets and Instagram posts, Lohan accused her Russian businessman fiancé Egor Tarabasov of cheating on her with a "hooker" and announced that she is pregnant. Then a British tabloid published video of Lohan arguing with Tarabasov on their apartment balcony. (At one point, she accused him of strangling her.) Afterward, Lohan sort of apologized for the tweets and boarded a yacht in the Mediterranean Sea for some relaxation time. 
Lucky for the tabloids, Lohan has at least one "friend" aboard the yacht who is willing to talk about her during this trying time. Hofit Golan, a blonde, young-ish woman, tells People that Lohan is not actually pregnant.
"People look at all the bikini photos and jump to the wrong conclusions," she said. "That's just her body shape. She never confirmed it."
That's just her body shape. A rude argument, but okay. Golan continues:
[Lohan] has never said to anyone that she's not engaged. She was upset. They had a fight and she needed to get away and beyond that no decisions are made. Anything that has been said either one way or the other is not true. It is the calm down after the storm. She's not said that she wants to break things off. She has not made any decisions.
Golan has made similar statements to Us Weekly, taking care to mention that she and Lohan are "very close" friends.
Last year, the Daily Mail identified Golan as an "Israeli socialite" who "refuses to disclose her age."