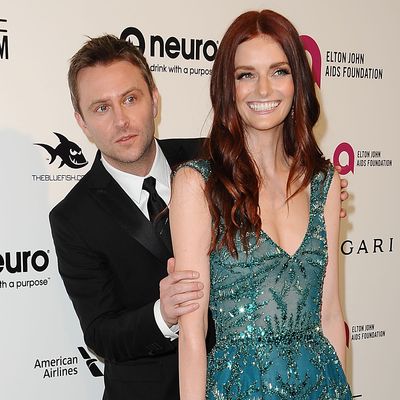 Photo: Jason LaVeris/Getty Images
Lydia Hearst and Chris Hardwick got married Saturday in Pasadena, California, in a wedding influenced by their mutual love of cute but weird sci-fi and horror.
The wedding announcement on Instagram referenced the logo for The Walking Dead, the extremely popular TV show based on the graphic novels by Robert Kirkman, and the day before that, Hearst posted a pic of the zombiefied couple with the caption, "My love for you will never die @hardwick." (Hardwick is the host of AMC's aftershow Talking Dead.) The wedding also had a few Whovian details, like the water bottles decorated with their initials in the shape of a Tardis and a bouquet with "Tardis-blue hydrangea."
The model, actress, and publishing heiress wore a gown custom designed by Christian Siriano, with a tight-fitting, white bodice and a fluffy skirt comprised of layers of tulle in varying shades of pink and blush. Hearst posted a black-and-white snap of herself wearing the dress, but only from the back, writing, "sorry folks, no one will see its color or the complete design until my wedding day." Hardwick wore a custom Prada suit, which may or may not be the color of the Tardis. Just sayin'.