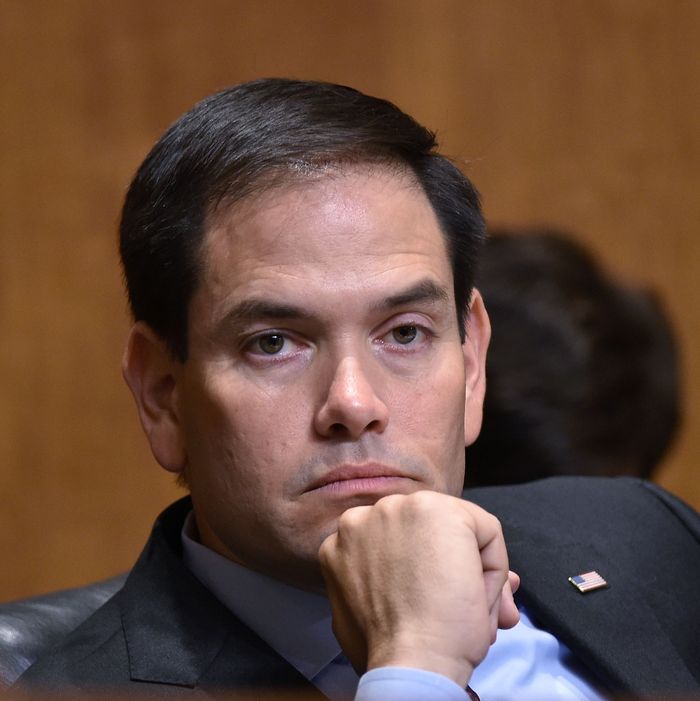 Photo: MANDEL NGAN/Getty Images
A recent poll showed that 59 percent of Americans support late-term abortions in cases where Zika has caused fetal microcephaly, but Marco Rubio isn't one of them. Despite increasing concerns over the mosquito-borne virus, the Republication senator from Florida isn't wavering for a second from his pro-life platform.
In an interview with Politico, Rubio said, "I understand a lot of people disagree with my view — but I believe that all human life is worthy of protection of our laws. And when you present it in the context of Zika or any prenatal condition, it's a difficult question and a hard one … But if I'm going to err, I'm going to err on the side of life."
Later he added, "Obviously, microcephaly is a terrible prenatal condition that kids are born with. And when they are, it's a lifetime of difficulties. So I get it. I'm not pretending to you that that's an easy question you asked me. But I'm pro-life. And I'm strongly pro-life. I believe all human life should be protected by our law, irrespective of the circumstances or condition of that life."
What's especially troubling is that the first cases of locally contracted Zika virus have occurred in Florida. The Centers for Disease Control has issued a travel advisory for pregnant women, their partners, and anyone who is planning to get pregnant to avoid Miami's Wynwood neighborhood. As per the head of the CDC, "The bottom line is that Zika is now here."
The Zika-relief bill that was passed at the end of June has been a huge source of contention because of the disease's inextricable link to reproductive health. Since it can be sexually transmitted and does cause devastating birth defects, one would naturally assume that at least some relief funding would go to preventative measures such as condoms. However, the final bill doesn't include the original proposal's $50 million for child and maternal health or any funding for contraceptives, and it blocks using any of the funds for Planned Parenthood or similar organizations.
Sarah Silverman summed it all up pretty succinctly on Saturday when she tweeted, "I don't like name calling and I'm trying to stay open but that's a real sexist & c*nty move @marcorubio."