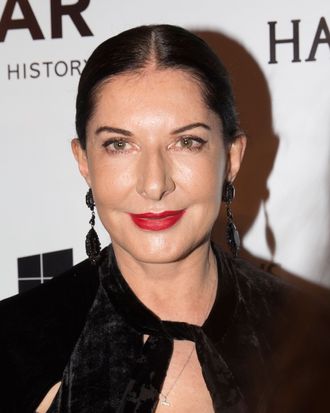 Marina Abramovic
Photo: Kevin Tachman/WireImage/Getty
Marina Abramovic, perhaps the most famous performance artist of all time, will be releasing a memoir titled Walk Through Walls in October — and advance copies of the forthcoming book indicate that there are some troubling racist passages within.
For instance, a page of her book that was posted to Twitter shows that, when describing Aboriginal Australians, she wrote the following:
Aborigines are not just the oldest race in Australia; they are the oldest race on the planet. They look like dinosaurs …

When you first meet them, you have to put effort into it. For one thing, to Western eyes they look terrible. Their faces are like no other faces on earth; they have big torsos (just one bad result of their encounter with Western civilization is a high-sugar diet that bloats their bodies) and sticklike legs.
Since then, the hashtag #theracistispresent — a play of words on her retrospective show, "The Artist Is Present" — has taken off on Twitter.

Abramovic has since responded to the controversy on Facebook, writing, "I have the greatest respect for Aborigine people, to whom I owe everything … The description contained in an early, uncorrected proof of my forthcoming book is taken from my diaries and reflects my initial reaction to these people when I encountered them for the very first time way back in 1979. It does not represent the understanding and appreciation of Aborigines that I subsequently acquired through immersion in their world and carry in my heart today."