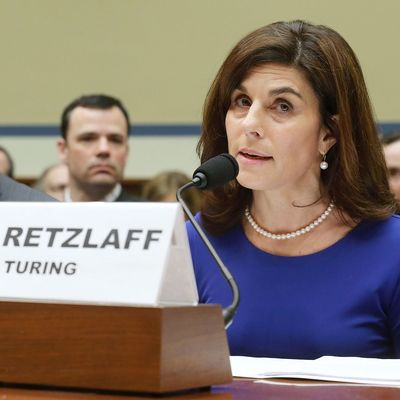 Photo: Mark Wilson/Getty Images
Nancy Retzlaff, the chief commercial officer at Turing, the price-hiking pharmaceutical company that once had media-hating, full-time Harambe-meme-generator Martin Shkreli as its chief executive, has filed a federal lawsuit against the company, claiming that they retaliated against her after she lodged a sexual-assault complaint.
Retzlaff claims that she was assaulted by a friend of Shkreli's (who is also a co-founder of the company) at a hotel room in D.C. in March. In the complaint, which Retzlaff filed on Monday with the Equal Employment Opportunity Commission, she said that Edwin Urrutia approached her at the hotel bar, then tried to kiss her. When Retzlaff took the elevator back to her room, the claim alleges that Urrutia blocked the door and demanded that she come to his room for a drink. When she obliged, he sexually assaulted her. According to the New York Times, Retzlaff said in the complaint, "Finally, after struggling for many minutes, I was able to escape Mr. Urrutia and run out of the room."
When a co-worker of Retzlaff's complained internally of Urrutia's consistent inappropriate behavior, an outside investigator got involved, and the co-founder was forced to resign. But now, Retzlaff says after his resignation in June, the company has actively retaliated against her, claiming that she had been told she was being considered for chief executive and that she would get restricted stock in the company. The company then reneged on both offers.
As for Shkreli, in a phone call to the Times, he denied the claim that there was any retaliation against Retzlaff, saying, "I know she was made some promises, but she fell a little bit short of expectations."