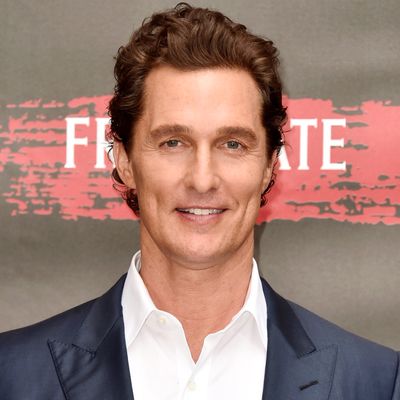 Photo: Alberto E. Rodriguez/Getty Images
Matthew McConaughey, a proficient outdoorsmen skilled at hunting and trapping bears women, has now set his sights on the most dangerous game of all: the millennial. In his new capacity as creative director for Wild Turkey bourbon (what a way to spend a McConaissance!) the Oscar-winning Lincoln salesman will direct, write, and star in an ad campaign designed to reinvent the storied bourbon brand for a younger audience. But, as he tells the New York Times, McConaughey has spent years studying the habits of his prey, so he knows just what makes them tick. For instance:
Millennials have strong senses of smell.
Matthew McConaughey took a big swig of bourbon and nestled deeper into a hotel penthouse sofa. Then, with zeal, he sat straight up and began sniffing the air like a bloodhound.

"They can smell it," he said in an ominous tone. "Millennials, and I know this for a fact, can smell solicitation."
Their sensitive noses can detect the aroma of fraudulence.
He continued: "The great news is that Wild Turkey hasn't changed in all these years — it's totally authentic. And that appeals to millennials. Because they can smell fake. Some manicured, bearded hipster soliciting them? No, thanks."
They are lured by potent and pure liquids.
"Millennials don't want bourbon lite. These people want bourbon, brother!"
And make no mistakes: He will find them.
The new marketing campaign will not "suddenly get all hoity-toity and alienate our core drinkers," Mr. McConaughey said. Instead, it will emphasize that "this drink is unapologetically itself, and if you're living your life that way as well, then Wild Turkey will probably find you."
There is no escape.
The official tag line for the campaign is "It'll Find You."
Stay vigilant, millennials. McConaughey is hot on your trail, and when he gits you, you're gunna drink bourbon whether you like it or not.