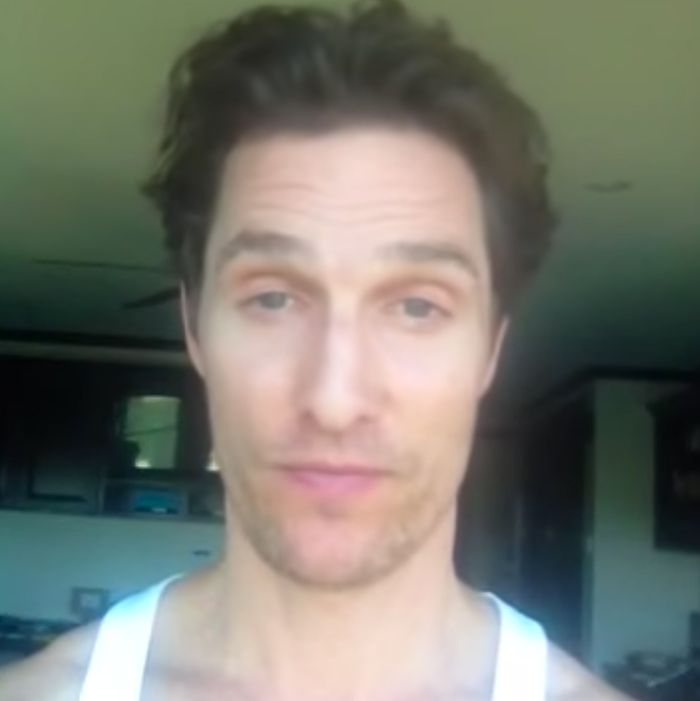 When Matthew McConaughey isn't out dispensing platitudes in his trademark Southern drawl or wearing a white tank top that shows off his beef logs (his arms, keep up), he's … doing those things on his extremely under-the-radar YouTube channel.

The channel, which began making the rounds after it was shared by Redditor S1icedBread on Thursday, contains exactly five videos posted between September 2014 and May 2016. The most recent video he uploaded is a trailer for the movie Sing, in which McConaughey voices an animated koala named Buster Moon. (The video itself is titled "Matthew McConaughey's video o …") The second most recent video, also titled "Matthew McConaughey's video o …," is a trailer for the animated movie Kubo and the Two Strings, to which he also lent his voice.
But the other three videos are pure, unadulterated McConaughey. The camera is zoomed in on his face, the video quality is impressively lo-fi, and he introduces every single clip with "Hey, McConaughey here." Titled "Matthew McConaughey's video o …," "http://www.whosay.com/l/KLD9L," and "McConaughey here. We still ha…," they're intended to raise money for the Just Keep Livin' and I Am Waters foundations.
Here's a nice sample, in which a bearded MMc muses on how much food he ate for Thanksgiving (spoiler: It was a lot).
I really think this guy is going places.