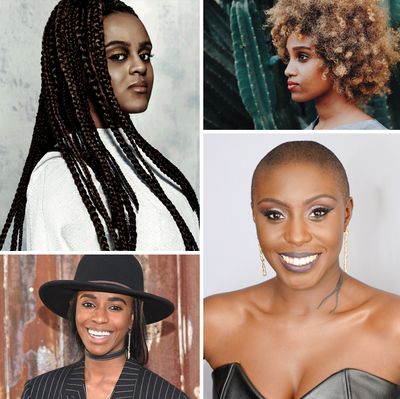 Photo: Getty Images; Courtesy of Instagram/eden__hagos
The lineup of women at the 12th-annual Afropunk Festival suggests that festival season is going out with a bang. People go to music festivals for a variety of reasons — to hang out with a group of friends, to hear new music, or just to soak in the fashion and culture — but Afropunk is unique. It's not only a celebration of music, but of blackness, of community, and of the eccentric fashion that is exclusive to its crowd. The lineup this year is sure to bring in the die-hards and the cool kids; scroll down to see who you should check out.
Janelle Monae
Is there anyone as cool as Janelle Monáe? She's made her own lane in pop music while refusing to conform to society's expectations for both her lyrics and her wardrobe. It's been about a year since the release of The Eephus, and she's been busy producing Moonlight and starring in the upcoming film Hidden Figures. But even if it's just repeats of her old hits, Janelle Monáe will still be one of the best shows to see this weekend.
Angel Haze
As a rare pansexual rapper-singer act, the 25-year-old Haze has captured the spotlight with hits like "Battlecry" featuring Sia and her mixtape Back to the Woods. Her commitment to using her voice as a woman of color for activism — like her positive body-image campaign, "The Naked Eye" — makes her a refreshing act to see time and time again.
Eden Hagos
Mixtape queen Eden Hagos has a sound that can't be described in a couple of words, but that doesn't make it less addictive. She's put out over 12 mixtakes to date, all blending her love of soft R&B, underground hip-hop, and tons and tons of bass. Her most recent mix, Elsewhere [Soulection & Chill Mix], has garnered thousands of plays. See her to get hooked.
Laura Mvula
Listening to British singer-songwriter Mvula's music, it's clear she used to be in a gospel choir – witness the liveliness of hits like "Overcome" and "Phenomenal Woman." Before breaking out on her own, Mvula sang in a jazz group and worked as a receptionist part-time, which might explain why she's so relatable. Since she's based in Britain, she's only making three Stateside appearances this year, so don't miss this one.
Seinabo Sey
Swedish singer Seinabo Sey's debut album "Pretend" broke records overseas when she released it last year. Her most recent single "Poetic" may sound familiar if you're an R&B fan, but it's worth hearing for her voice alone. See her now so that you can brag about it later – she's quickly picking up momentum.