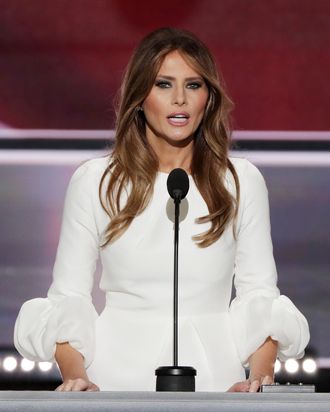 Melania Trump speaks at the RNC.
Photo: Alex Wong/Getty Images
Melania Trump seems to be polling about as well as her husband these days. Maybe it's because of the whole plagiarism thing, or maybe it's a result of the lack of specific details pertaining to her immigration status, but in a new survey from the Washington Post and ABC News, the potential First Lady is the least favorably viewed of all first spouses and running mates, and the least-liked First Lady since Hillary Clinton in 1996.
Based on responses, Trump's net favorability was a plus-1, which means that about an equal number of people see her negatively and positively. By comparison, Tim Kaine and Mike Pence had net favorabilities of plus-19 and plus-17, respectively, meaning more respondents viewed them in a positive light.
Of course, respondents were also swayed by their party loyalties — those who like Donald Trump are much more likely to like Melania, whereas more than 60 percent of people who dislike Trump also view Melania negatively. But the most interesting part of the survey was just how unpopular Melania seems to be when compared to other first spouses:
Melania Trump's popularity is lower than nearly any other recent candidate's spouse during an election year. The most popular spouse was Barbara Bush, George H.W. Bush's wife. (This will surprise no one old enough to remember his presidency.) Michelle Obama was also viewed fairly positively at about this stage of 2012, though a little worse four years earlier, when she wasn't as well known. (In October of that year, 29 percent of Republicans had a strongly negative view of her.) To find a spouse less positively viewed than Melania, you'd have to go back to January 1996 — and a presidential spouse named Hillary Clinton.
We don't get it — she's just so relatable.