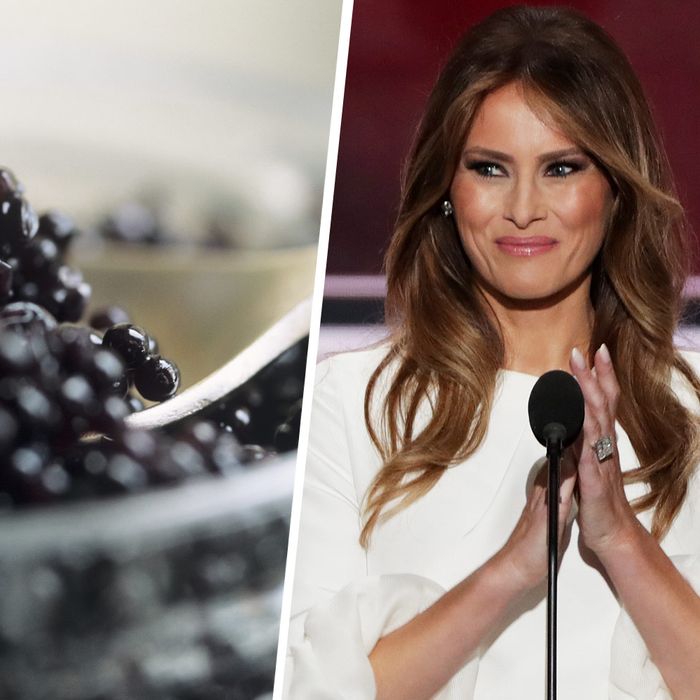 There's nothing the Trump family does better than drama. Ivanka Trump is a feminist who doesn't pay interns, Melania Trump seems to have a knack for plagiarism, and Donald Trump is just Donald. The latest source of drama comes from Melania again, and it involves her now-defunct caviar skin-care line, threesomes, and a lineup of lawsuits.
Racked reports the sordid tale. Melania, bright-eyed and bushy-tailed in 2012, signed a deal with New Sunshine LLC, a Midwest skin-care holding company that also churns out a Kardashian-branded bronzer, in addition to one fronted by Jersey Shore's JWoww. At the time, New Sunshine was run by two rich midwestern dudes: Steve Hilbert (just a millionaire) and John Menard, an actual billionaire. The Trumps, the Hilberts, and the Menards were chummy, so they decided to go into business together as rich people often do.
It started off badly. Shortly after Melania signed a contract to operate as the face of New Sunshine's "Melania Beauty" brand, the company began to unravel. John Menard (the billionaire) sued his business partner, Steve Hilbert (the mere millionaire), because of a few shady business deals. In return, Hilbert and his wife, Tomisue, sued Menard, upping the ante with a scandalous claim that Menard propositioned Tomisue with a threesome, saying he "no longer liked working, was tired of pleasing his customers, and had decided he wanted to live his life fully and fulfill his sexual urges." At this point, Menard sued Melania, because why not add another lawsuit to the pile?
This all happened after Melania had concluded a grand media tour touting her caviar-infused skin-care brand. She made an appearance on The Apprentice to promote it, peddled it in magazines, and sung its praises on Good Morning America. She even used her son Barron — who was all but 6 years old at the time — to test the luxury line. (It must have worked, as he doesn't look a day over 10.)
In the end, Melania's skin-care line never came to be. Court documents show that Melania was none-too-pleased at the brand's failure and the blemish it stuck on her personal brand. The only fruit it bore was drama, and wow was it juicy.