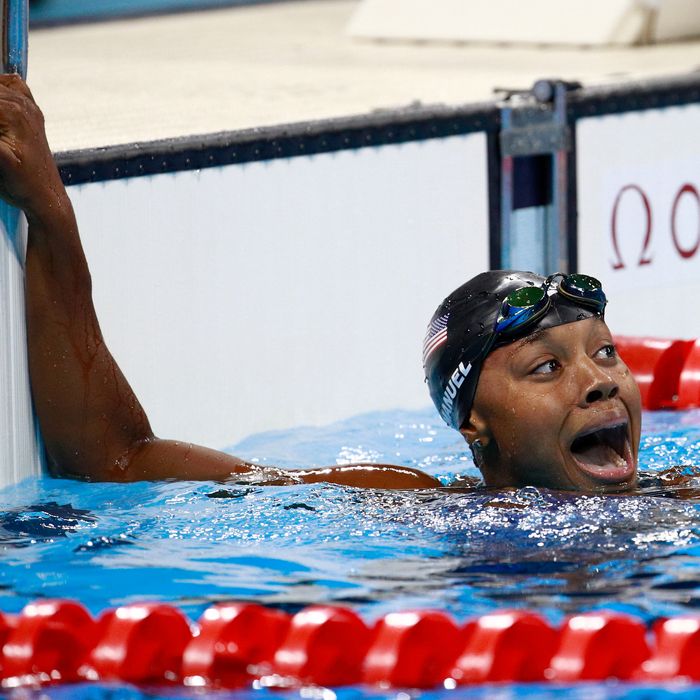 Photo: Adam Pretty/2016 Getty Images
The U.S. Olympic swim team was at it again on Thursday. Michael Phelps won his 22nd career Olympic gold medal in the 200-meter individual medley. Then Simone Manuel tied for gold, finishing at the exact same moment as Canadian Penny Oleksiak in the 100-meter freestyle, making her the first African-American woman to earn a medal in an individual event in swimming.
This is Phelps's fourth straight gold medal in the 200-meter individual medley, and his fourth gold medal in the Rio Olympics. As the New York Times notes, by winning his 13th individual gold, Phelps beat an ancient Greek, Leonidas of Rhodes, who won 12 individual events over four Olympics.
He finished in 1 minute 54.66, his second-best time after 1 minute 54.23 in Beijing. He was nearly two seconds faster than the other swimmers, and finished more than a body length ahead.
Ryan Lochte — who has 12 Olympic medals and "would be like the Michael Phelps of swimming if he wasn't there," as he put it — finished fifth. Thanks to these confused CBC commentators, we got a peek at the alternate universe where Lochte bested his teammate.
Next Simone Manuel, the 20-year-old making her Olympics debut, surprised even herself when she finished the 100-meter freestyle in 52.70 seconds. She and Oleksiak beat Australia's Cate Campbell, who set the world record last month, but finished sixth on Thursday.
There was also a tie the last time an American woman won the event; Americans Nancy Hogshead and Carrie Steinseifer both took home gold in 1984.