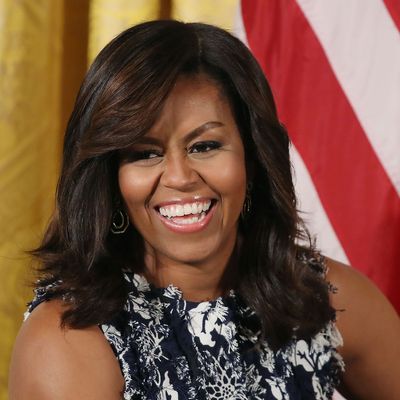 Michelle Obama has always been brilliant.
Photo: Mark Wilson/Getty Images
Michelle Obama is a seasoned professional when it comes to dropping truth bombs, but it turns out the First Lady was almost as astute at age 10 as she is now. In an interview with Variety in which she describes how throughout her term she's used pop culture to bring her message to the people who need to hear it most, Obama said she learned from The Mary Tyler Moore Show that women don't need men to be happy and fulfilled.
"She was one of the few single working women depicted on television at the time," Obama said. She went on:
She wasn't married. She wasn't looking to get married. At no point did the series end in a happy ending with her finding a husband — which seemed to be the course you had to take as a woman. But she sort of bucked that. She worked in a newsroom, she had a tough boss, and she stood up to him. She had close friends, never bemoaning the fact that she was a single. She was very proud and comfortable in that role.
I was probably 10 or 11 when I saw that, and sort of started thinking, 'You know what? Marriage is an option. Having a family is an option. And going to school and getting your education and building your career is another really viable option that can lead to happiness and fulfillment.
Which could be why she was reportedly so reluctant to get to know Barack Obama when he showed up at her law firm in Chicago as a summer associate in 1989.
"I had dated a lot of brothers who had this kind of reputation coming in, so I figured he was one of these smooth brothers who could talk straight and impress people," she told the Washington Post. "So we had lunch, and he had this bad sport jacket and a cigarette dangling from his mouth, and I thought, 'Oh, here you go. Here's this good-looking, smooth-talking guy. I've been down this road before.'"
In the end, things with Barack worked out. But even if they hadn't, Michelle Robinson would've been just fine, thank you very much.