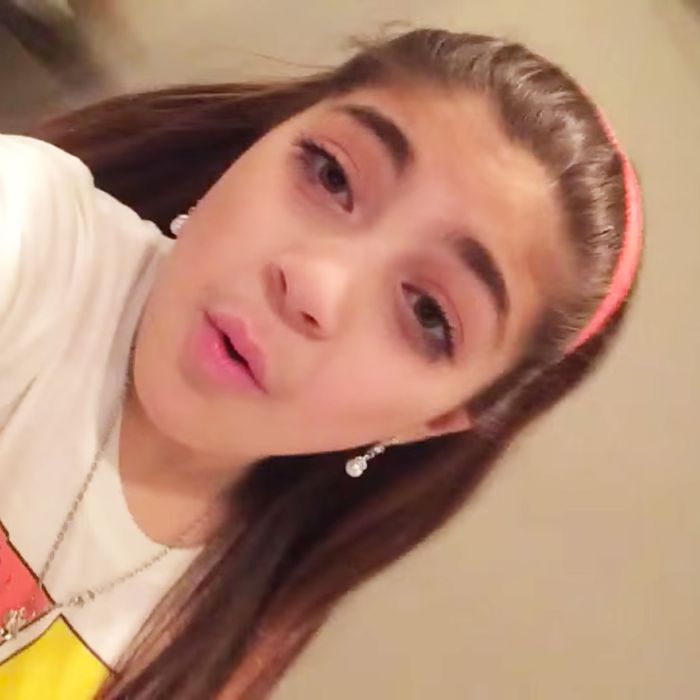 Please alert the authorities because New Jersey's Most Notorious 10-Year-Old Milania Giudice has a new YouTube channel, and I don't think her parents know about it. A friend of the Cut recently pointed us to Milania's little-seen trove of videos, and they are just as beautiful and terrifying as the child herself. Let's watch them together.
For the uninitiated, Milania is the star of the Giudice family on The Real Housewives of New Jersey. She is the third of Teresa and Joe Giudice's four fabulous dodders, and she is known for being … hmm … wondrously difficult. Jezebel reverently refers to her as "The Dreaded Milania."
She screams.
She hits.
And she has a fascination with the scatalogical.
She also has a fabulous closet, which you can see here.
When the Real Housewives of New Jersey premiered in 2009, Milania was just 4 years old. We've watched her grow up on the show, and now thanks to her YouTube channel, we can see what it's like behind the scenes. Milania is, as ever, real and unfiltered.
She has 13 videos on her channel, all of which were uploaded in March of 2016. (It is not clear whether she lost computer privileges after that or simply got bored.) Some of the videos are titled only with the date, but others have more descriptive monikers like "MAKEUP!! By Milania Giudice!" and "NIGHT!!! By Milania Giudice!" and "Lean and Dabb!! By Milania Giudice!" Most of them were filmed on Milania's phone, creating a shaky, frenetic vibe that could send sensitive viewers into seizures (of joy).
Milania filmed the following video, for example, while jumping on a trampoline. "Hi guys! Me and Stephanie today!" she yelps into the camera. "The reason why we got makeup on is 'cuz I did cheerleading today, cheerleading competition WOOOOOOO!" She continues describing her day for the next several minutes without taking a breath.
"MAKEUP!! By Milania Giudice!" is a slightly more subdued offering, in which Milania confidently refers to concealer as "bronzer." (To be fair, that might be what they call it in Jersey.)
I believe commenter "Charlotte Stein" speaks for all of us with the following review: "This is so adorable. I can't handle it. What a sweetheart."
Perhaps the most inventive short film on the Milania Giudice Official Channel is "Wig video!! By Milania Giudice!!" Milania explains the premise in the opening scene: "Hi guys, it's me and Stephanie here today, and today we'll be doing, well, we'll be putting on the wigs. Like, we have a lot of wigs. We'll be trying on five different kinds of wigs."
And that's what they do.
Please contact me if you know how to submit a YouTube video for consideration at Sundance.