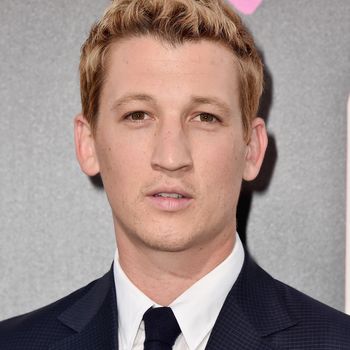 Miles Teller.
Photo: Alberto E. Rodriguez/Getty Images
Last year, Miles Teller was the subject of a rather unflattering Esquire cover story, which began: "You're sitting across from Miles Teller at the Luminary restaurant in Atlanta and trying to figure out if he's a dick." The profile went on to depict Teller in the throes of various dickish behaviors, such as joking with a waitress about the shape of his penis and referring to the actor Joaquin Phoenix as "Joaq."
In a new interview with The Guardian, a newly blond Teller reveals that he is still upset about the way he was depicted. "Oh, I felt frickin' helpless, I felt extremely misrepresented, I felt a little angry," he said. "For the average person, they are reading this article, they haven't met you, they're like, 'Oh, Miles is an asshole. You didn't hear it? You didn't read that Esquire? Yeah, she said he was an asshole – he must be!'"

He continues:
"I'd say that you get a little more guarded but I'm actually not. Certain times I'll choose my words very carefully and maybe come off a little more boring. But I also think that's why people – certain people – do relate to me: because there is no agenda, honestly. I was raised middle-class in a small town. I have all my same friends from high school. I'm close with my family. I'm dating a normal girl."
To be fair, going on about how normal you are — particularly when the "normal girl" you're dating is a supermodel who has a tattoo of your initials on her ass — feels like kind of a dick move. But maybe we're just reading Teller wrong? As Guardian writer Tim Lewis helpfully explains, "quotes that can read a little bald in print are often more archly and winningly expressed in person."
So try to imagine the following quote spoken in an arch and winning way:
"I want to feel people think I'm a man of the people. Because I feel that way."
Charming!