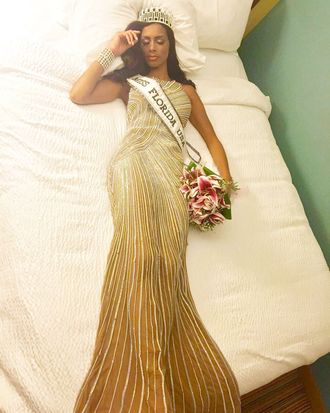 If the past few weeks have taught us anything, it's that the world of beauty pageants is just as roiled by drama — if not more so — as Miss Congeniality would have us believe. Most recently, Genesis Davila — who won Miss Florida USA 2017 on July 16, only to have her title revoked six days later — is now suing the organization for defamation to the tune of $15 million. Grant Gravitt, the pageant's executive director, took away her crown because he says Davila used professional hair and makeup artists, which is against pageant rules.
Davila, however, claims that a photo of herself getting her makeup done professionally that's being used in the case against her was taken on July 9 at an unrelated photo shoot. Davila's attorney, Richard Wolfe, told reporters that Gravitt cropped the image to hide the date, and stated, "we believe [Gravitt] acted maliciously and intentionally, to defame and hurt my client." On July 22, Gravitt told ABC 10 that he had received complaints from other contestants that she was utilizing outside help.
In other news, the Miss Universe Organization stands behind Miss Teen USA winner Karlie Hay, who liberally used the N-word on Twitter, and will not be revoking her crown.