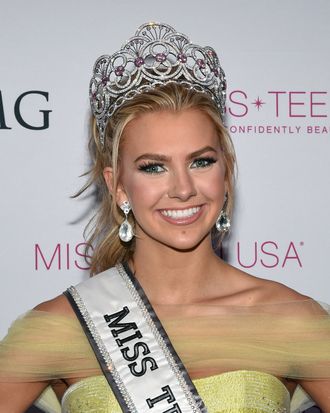 Miss Teen USA Karlie Hay
Photo: Ethan Miller/Getty Images
When Miss Teen USA tweeted out its top-five contestants, the competition's lack of diversity was so stark it almost appeared to be a parody.
Even worse? Shortly after winning this year's Miss Teen USA title, Karlie Hay — the former Miss Texas Teen USA — was discovered to have used the N-word on Twitter multiple times through 2013 and 2014.
Hay apologized shortly after in an Instagram post that read, in part, "Several years ago, I had many personal struggles and found myself in a place that is not representative of who I am as a person. I admit that I have used language publicly in the past which I am not proud of and that there is no excuse for. Through hard work, education and thanks in large part to the sisterhood that I have come to know through pageants, I am proud to say that I am today a better person."
And her past Twitter transgressions will have no bearing on her keeping the crown. In an emailed statement to Mic, the Miss Universe Organization wrote:
"The language Karlie Hay used is unacceptable at any age and in no way reflects the values of The Miss Universe Organization. As Karlie stated, she was in a different place in her life and made a serious mistake she regrets and for which she sincerely apologizes. Karlie learned many lessons through those personal struggles that reshaped her life and values. We as an organization are committed to supporting her continued growth."
This suggests a peculiar standard regarding what it takes to get a pageant title revoked. For instance, both Vanessa Williams, Miss America 1984 (and the first African-American winner), and Carrie Prejean, Miss California USA* 2009, had their crowns taken away after nude photos surfaced. But racist tweets? Apparently not a problem.

*A previous version of this article stated that Prejean was Miss USA 2009. She was actually the first runner-up.