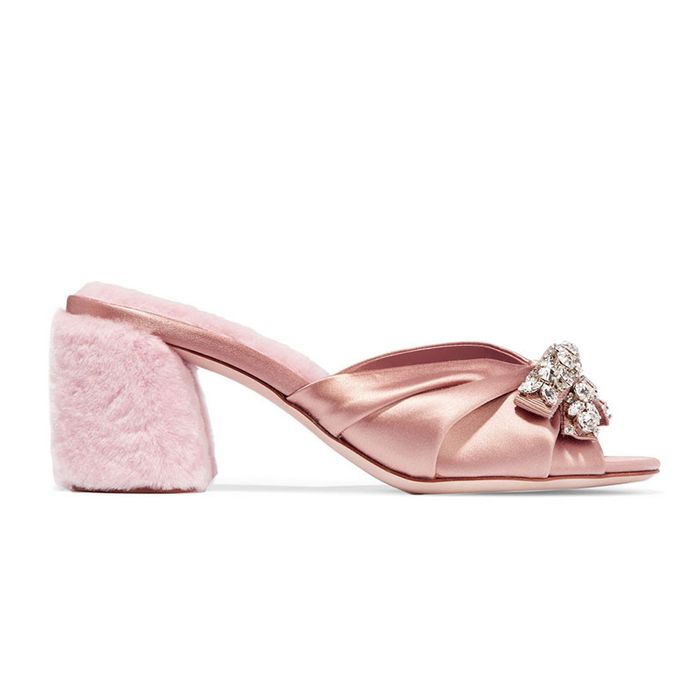 Pink was the big color this spring. It was all over the runways, it replaced the white sneaker, and it even converted a hater. Me? I didn't have any strong feelings on it. Sure, I could appreciate its general aesthetic appeal, but I wasn't about to abandon my black-loving, summer-hating ways to jump on the trend. Until I saw these Miu Miu slides.
I'm not supposed to like these shoes. In fact, when I sent the link over to several friends, they asked if I was suffering a momentary identity crisis. These Miu Miu slides are pink, sparkly, and fluffy. They're the equivalent of a cheerful smile and a warm hug. I hate being touched and I'm particularly proud of my strong resting bitch face.
Then, one weekend, while trawling street-style star Pernille Teisbaek's Instagram account, I saw them. There they were, sitting on the floor surrounded by dreamy white curtains. The picture was pretty enough to warrant a like. And then Net-a-Porter re-grammed that same photo. It felt like they were haunting me. I bookmarked the Net-a-Porter link that night.
Do I have shoe (or color) Stockholm Syndrome? Maybe. But, I've never wanted to slide my feet into their shearling-lined soles so badly. I look down at my jeans and I think how amazing they would look with the shredded hems. Never mind that New York is particularly dirty and I have nowhere to wear them. I'll spring for the Uber to and from work. Just one thing before I do, though: Does anyone want to give me $950?
Miu Miu crystal-embellished satin and shearling mules, $950, Net-a-Porter