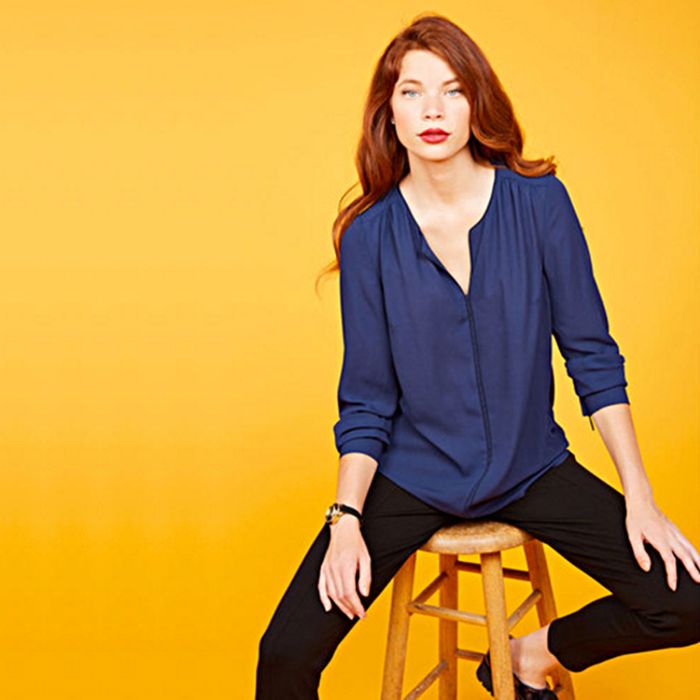 Photo: Courtesy of modcloth.com
Podcast Voice is a well-established phenomenon, but now, ModCloth — a brand well-known for its vintage-inspired clothing and whimsical product names — has introduced the Podcast Shirt. Or, more specifically, the "Podcast Co-Host Top in Midnight." Anna Sale, who hosts the inimitable WNYC show Death, Sex & Money, tweeted out a photo of the shirt on Tuesday afternoon.
Related products like the Podcast Premiere Top ("There's lots to talk about on your debut episode, but this paisley top keeps the focus on your style!") and the Podcast Party Top ("Recording new episodes always feels like a party, and you're dressed to impress in this yoke-necked top and your fave skinnies.") have sadly sold out, but there's still plenty of podcast fanfiction to be had with the Co-Host Top product description:

Even a late night in the studio deserves your best style effort. Show you agree by sporting this navy top to record your next episode! Boasting a notched neckline, tab sleeves, and a deeper blue trim down the center, this sharp ModCloth namesake label top makes your outfit just as clever as the insights you share with your digital audience.
Your digital audience! Yourdigitalaudience. Your. Digital. Audience.

After reading that, I'm left with more questions about the Podcast Co-Host Top in Midnight than I started with. Why co-host? Must the singular podcast host get a different shirt altogether? Will Ira Glass never know the pleasure of feeling this 100 percent polyester blouse against his skin? Does it pair well with a tote bag? Is ModCloth ever thinking of unveiling a blogger shirt? Can it just be a large, stain-proof sack?

I am spiraling.