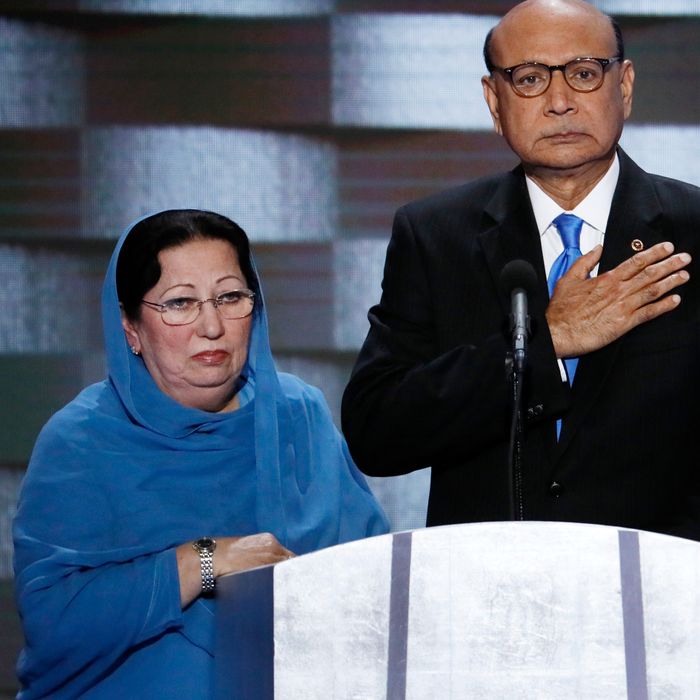 Ghazala Khan and her husband at the Democratic National Convention.
Photo: J. Scott Applewhite/AP
After Khizr Khan, the father of a fallen Muslim American war hero, condemned Donald Trump at the Democratic National Convention, the GOP nominee lashed out, claiming (falsely) that Khan didn't write the speech himself, but also questioning why Khan's wife, Ghazala Khan, who stood next to him while he gave his speech, remained silent.
"If you look at his wife, she was standing there," Trump said. "She had nothing to say … maybe she wasn't allowed to have anything to say. You tell me. Plenty of people have written that."
Ghazala Khan responded with a moving op-ed in the Washington Post, in which she told the ever-sensitive Trump that her inability to speak was not due to her religion but to her overwhelming grief. "I cannot walk into a room with pictures of Humayun," she said. "Walking onto the convention stage, with a huge picture of my son behind me, I could hardly control myself. What mother could? Donald Trump has children whom he loves. Does he really need to wonder why I did not speak?"
Meanwhile, Trump has continued to attack the Khan family, and one of Trump's surrogates — Roger Stone — claimed Khizr Khan is a Muslim Brotherhood agent. So yes, they can hear you; they're just not listening.