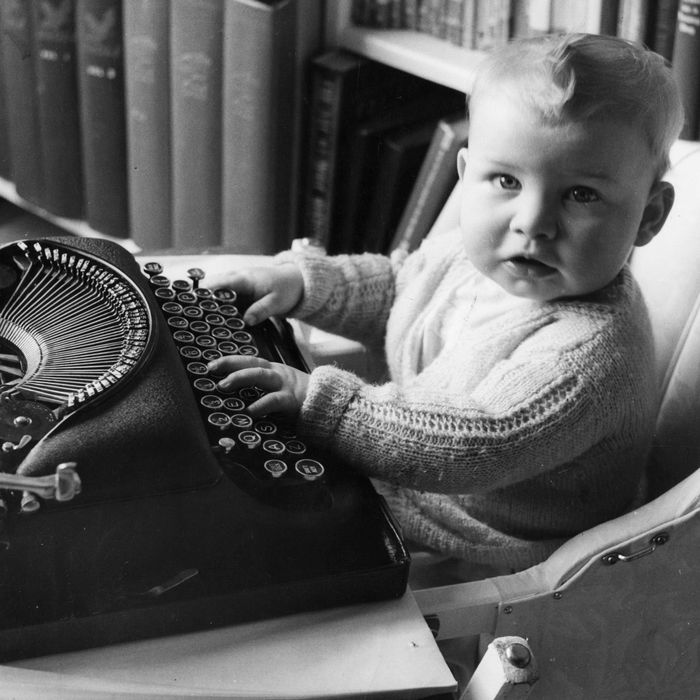 Photo: K. Webb/Getty Images
I didn't get married until I was 38. I was making a very nice salary as a managing editor at a publishing house. The stress was crazy, and the pace was unrelenting.
My now-husband and I started trying to get pregnant before we were married. I did a couple of IUI cycles, then I had an IVF cycle, and it was cancelled because the embryos didn't divide. The doctor told me I had a 15 percent chance of conceiving, even less of carrying to term. That was devastating, but I was very determined. I got a new doctor, did a lot of Eastern medicine, and looked at what wasn't working in my life: my job.
I thought I needed it, but that just wasn't true. I'd been freelance before, my husband and I had a one-bedroom co-op, and he was doing fine at his job. I needed to be happier with or without a child. I knew I'd be making less money if I quit, but I'd have a life again. We were living below our means, and we figured if I did get pregnant, the baby could sleep in the living room.
So I went freelance and started working as a copy editor at two magazines and doing additional work at home. A month later, I had my second IVF cycle. I was shooting myself up with fertility drugs in the bathroom at work, under my desk, and when I was out to dinner. Six weeks into it, on Valentine's Day, I found out I was pregnant.
I had this beautiful plan for wrapping everything up two weeks before my son, Liam, was due, but then he came a month early, in late September. And 36 hours after he was born, I felt this suicidal postpartum depression descend over me.
It wasn't a total surprise, because I have a history of depression, and my pregnancy was so difficult. I gained 72 pounds, my asthma kicked in, and I was uncomfortable all the time. After Liam was born, everyone kept saying, "Aren't you overjoyed?" But I was so anxious, I couldn't sit down or sleep, and I thought, this baby deserves a better mother; I shouldn't be here anymore.
It was my hairdresser, of all people, who took one look at me and said, "Oh, honey, you need help." I called my doctor, who put me in touch with a psychiatrist. I started going twice a week and taking medication. It took me about three months to feel like myself again, and another three to feel solid.
Work definitely helped me heal. Going back to an office job, whether full-time or freelance, seemed impossible. But six weeks after having Liam, one of my clients asked if I could do a cold read; simply reading a book about to go to print and looking for typos. I did this over the weekend, while my husband was home, and began taking on more proofreading work. Four months after giving birth, I started to get new clients and take on more ambitious projects, and that really helped me get back on my feet. It made me realize I'm not just a mother or this broken-down person who was basically suicidal and had crippling anxiety, I'm a good editor.
I had practice with ferocious concentration, so I drew on that. It's not that hard to tune out a baby when you've worked in a newsroom. Liam would nap for two hours in the morning and the afternoon, and I'd just bang things out. When he got older and became mobile, sometimes I would work standing up at his changing table, and he would figure-eight around my ankles saying, "Mama, park," or motioning for me to shut my laptop. We always got to the playground eventually.
My mother lives half an hour away, and she helped out a lot — first when I was so debilitated with depression, and later when I had to work. My mother-in-law was also a big help. Having free child care was amazing. Liam is about to start first grade, and I do a lot of work when he's in school, and then on weekends and at night from 8 to about 11.
That's what I treasure about my life: time with my kid, and flexibility. I like being able to have all afternoon with Liam, playing and enjoying each other's company. When I do have to work, he amuses himself, and I do hire the occasional babysitter when deadlines are looming. I can drop off Liam, and if I'm sick or I didn't sleep well, I can go back to bed. It's up to me how I carve out my time between nine and three. Most mornings I go to Bikram yoga at 9:30, and a lot of people assume I'm a stay-at-home mom. That used to offend me, but these days I don't care what people think. I know I work hard.
My husband's the primary breadwinner. At one point I earned more than he did, and even after our son was born, I continued to pay half of all our living expenses. But when Liam was two and a half, we moved to a bigger apartment, and by that time, my husband was earning significantly more. I was working as an editor but also raising our son and managing our home. I said, "Either I'm contributing less to our household fund, or we're outsourcing some child care and cleaning." We moved to more of a two-thirds-from-him, one-third-from-me situation, and I was much happier. I felt less pressure to earn a certain amount, and I felt like I was being compensated for my work around the house. It's not what I expected or pictured for myself, but that's true of so much in my life.
I do wish I'd prioritized our marriage a little more. Having a child makes you a family, and you get to see this beautiful side of your partner as a parent, but it does not bring you closer as a couple. You have to really work at marriage, and pay babysitters so you can go for out for dinner and a movie. It's a challenge, but I made it extra difficult, because I lost a big chunk of my life to postpartum depression, and once I felt better, I wasn't that interested in family time — I wanted me time. My marriage isn't in the best place right now, and you can trace the origins back to my decisions to work during time I could have spent with my husband. But I'm always striving to find the work-life balance and to be happy each day. The depression does come back sometimes, but never with such ferocity.