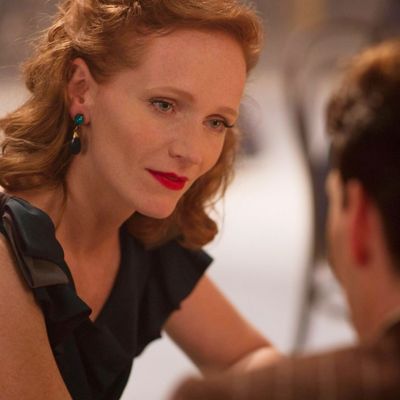 Anna Geislerová in a scene from Anthropoid.
Photo: Courtesy of Bleecker Street
Few World War II movies acknowledge the role women played in stopping Hitler's march across Europe. But the new film Anthropoid helps set the record straight, highlighting contributions women in Prague made to the Czechoslovakian resistance — specifically, their part in the assassination mission Operation Anthropoid, which changed the direction of the war.
Set in 1941, the film focuses on two Czech soldiers, Jozef Gabčík (Cillian Murphy) and Jan Kubiš (Jamie Dornan) who parachute into their German-occupied homeland. Their mission is to assassinate Reinhard Heydrich, a high-ranking Nazi official and primary architect of the Holocaust.
On Thursday night, at the film's New York premiere hosted by Peggy Siegal and Bleecker Street, the Cut spoke to the female stars about their characters' significance in the assassination plot.
"The women in the Czech resistance were even tougher than the men sometimes, because they didn't say anything," said Anna Geislerova. Her character Lenka Fafková is a seasoned resistance fighter who gets frustrated when her male comrades try mansplaining the war. "They were ready to die and do anything to fight for the resistance."
In the film, the women shuttle correspondences between the would-be assassins. At one point, Geislerova's character shows a little leg to distract a German soldier, saving her male colleagues from certain death. According to historical accounts of the Czech resistance, women regularly used their charm to extract information from German soldiers. Just as often, they were invisible.
Actress Charlotte Le Bon plays Marie Kovárníková, a real-life figure who had an affair with Jan Kubiš (Jamie Dornan), and was eventually executed by the Nazis while reportedly pregnant. "I looked at a lot of pictures, and you can tell in their posture they didn't want to bring any attention to themselves," Le Bon said.
Director Sean Ellis studied the testaments of survivors, especially the story of Maria Moravcová, who hides special-ops soldiers during the assassination attempt.
"Mrs. Moravcová was prepared to put her country in front of the lives of her family," Ellis said. "If that isn't one of the boldest, bravest, heroic [actions] … I don't think I could do it. Could I put my country in front of the lives of my children? I'm not so sure. She is almost like the unsung hero of the resistance."
Anthropoid opens August 12.