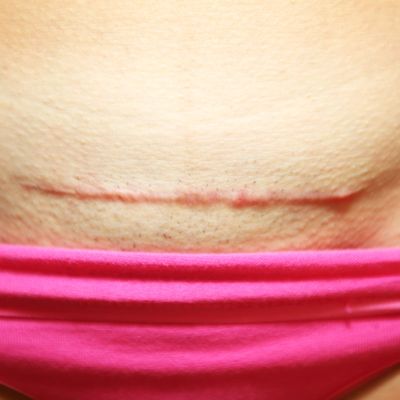 Photo: Yana Bukharova & Denis Bukharov/Getty Images/iStockphoto
On August 15, a woman named Raye Lee gave birth to a six-pound, eight-ounce baby boy she named Roxas. Roxas was born via emergency C-section after hours of labor — a fairly common birth story, though one that is stressful and terrifying for every mother who goes through it.

Instead of waiting for the inevitable (though often well-meaning) shaming that comes along with most modern-day cesarean births, Raye posted a funny, biting Facebook rant to fend off any would-be haters.
It's surprising to some to hear that mothers who deliver via C-section are often made to feel ashamed, as if they have somehow either "missed out" on a normal or "natural" birth. About one in three babies are born via C-section in the United States, and while no one can agree whether that number is needlessly high or not, there's still a real stigma attached to this life-saving procedure in some circles.
Raye's post — which includes photos of her incision that might be surprising for those unfamiliar with C-sections — reads in part:
Ah, yes. My emergency c-section was absolutely a matter of convenience. It was really convenient to be in labor for 38 hours before my baby went into distress and then every contraction was literally STOPPING his HEART.
This was the most painful thing I have experienced in my life.
I now belong to a badass tribe of mamas with the scar to prove that I had a baby cut out of me and lived to tell the tale.
( because you can die from this, you know. )
But you should really read the whole thing in full. It's been shared on Facebook nearly 20,000 times, and her original post has almost 200 comments on it, many of them from other C-section mothers who are cheering her on in her recovery. Her candor has obviously struck a nerve.