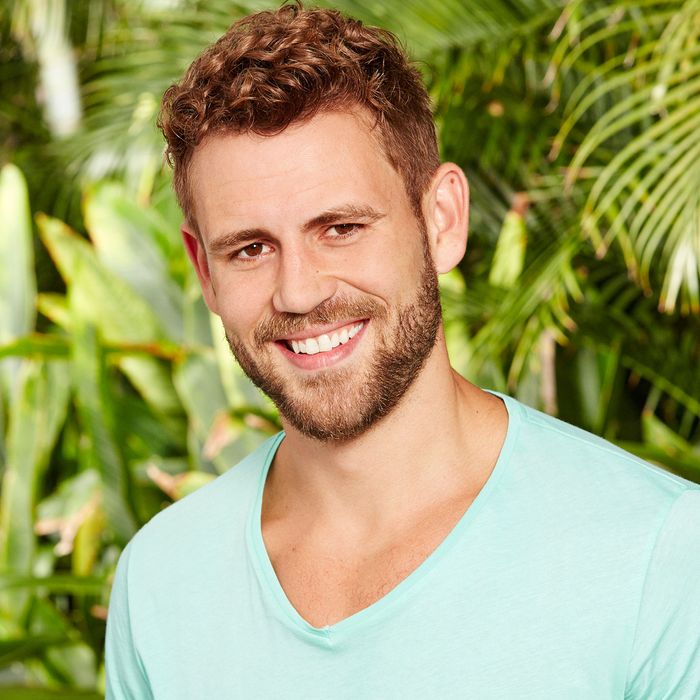 Last night, we learned that Nick Viall — the twice-dumped, three-time Bachelor franchise contestant — beat out our old friends, metrosexual Will Forte, bargain-basement Calvin Harris, and Nicholas Sparks stock cowboy, for the coveted role of Bachelor on the upcoming season of the long-running reality dating show.

Nick's anointment is being billed as an exciting shakeup, given that the show usually picks one of the runner-ups from the previous season. It's also being positioned as a heartwarming redemption story. As you may recall, Nick called out Bachelorette Andi Dorfman for having sex with him at the After the Final Rose ceremony ("If you weren't in love with me, I'm just not sure why you made love with me," he told her, saying she led him on with "fiancé-type stuff"), setting off a wave of (admittedly problematic) "slut-shaming" accusations and establishing him as a franchise villain. He came back again to woo Bachelorette Kaitlyn Bristowe, where he was rejected again after a season spent beefing with eventual winner Sean. But after a redeeming stint on Bachelor in Paradise (not hard, given how awful everyone else on that godforsaken island is), good ol' Nick V. is being given another shot at love.

"He has just become that perennial second-place guy who wants to find love and is as sincere, if not more sincere, than anybody about finding it," host Chris Harrison told People. "It's about giving him his chance to find love. Who deserves it more than him?"

"We just were talking and thought, 'You know what, this makes so much sense. Why aren't we doing this?'" Harrison continued. "The good thing is, with our casting, there's no rules. There's no rules that say we can't use somebody that's been on the show or hasn't been on the show or whatever."

The weird thing, though, is that ABC is pretty willing to invoke "the rules" when it suits them; namely, whenever anyone suggests introducing even a smidgen of diversity into the franchise. Here's what ABC president Channing Dungey said when asked about the possibility of finally getting a nonwhite Bachelor on the show. "Part of what ends up happening as we go along is there just aren't as many candidates that [get to the end and could end up in] the role of the next Bachelor or Bachelorette," she told a crowd at TCA. Basically: Since the show always picks the suitor from from the pool of runners-up, a nonwhite contestant would have to get far enough as a contestant in order to then be considered for the title slot. "The show has been very much in a cycle where the first runner-up in one cycle becomes the person who leads the next cycle," she continued. "And it's worked very well for us because the audience feels really engaged in helping to choose that candidate."

Sure — whatever. The fact is, The Bachelor is a franchise that thrives on "shakeups" and "twists" and "surprises" while still being deeply committed to enforcing the status quo, spoon-feeding people the same confection they've been ingesting for years. It reminds me of the "shakeup" that happened two season ago, when Chris Harrison announced that there would be two Bachelorettes — Kaitlyn Bristowe and Britt Nilsson — instead of one, and that the men would get to vote on who stayed. What was billed as a fresh twist on the format was actually well in keeping with the show's consistently backwards-looking gender politics, serving only to deprive the prospective Bachelorette of the limited agency she has on what is supposed to be the franchise's feminist corollary.

Nick is being billed as a surprising choice, but having seen his dopey face on TV basically nonstop since spring 2014, is it really surprising to see him back at it again? There is nothing The Bachelor franchise likes more than bringing back people from earlier seasons (see you soon, Chad!) particularly if they can package the return as some sort of redemption narrative. And bringing back people who have willingly forsaken their lives to become recurring characters on this series, like Nick has — in series parlance, contestants who are "here for the wrong reasons" — continues to suck any last shred of authenticity out of a show whose success relies on at least pretending to have authentic emotions at its core.

The upside to Nick, I guess, is that he is actually willing to address sex — even if he doesn't talk about it very well — while almost everyone else on this series continues to pretend it doesn't exist. So even if there's no hope for the show's racial politics, maybe, just maybe, a Nick-led season could continue to advance the way we talk about hooking up on the franchise. To his credit, Nick supported Kaitlyn, The Bachelorette's very own Katniss Everdeen, when she was publicly shamed for being open about her sex life, tweeting that "sex is not shameful" and "both men and women have an equal right to have sex without judgement." It's hardly a battle cry for the revolution, but it's a start.