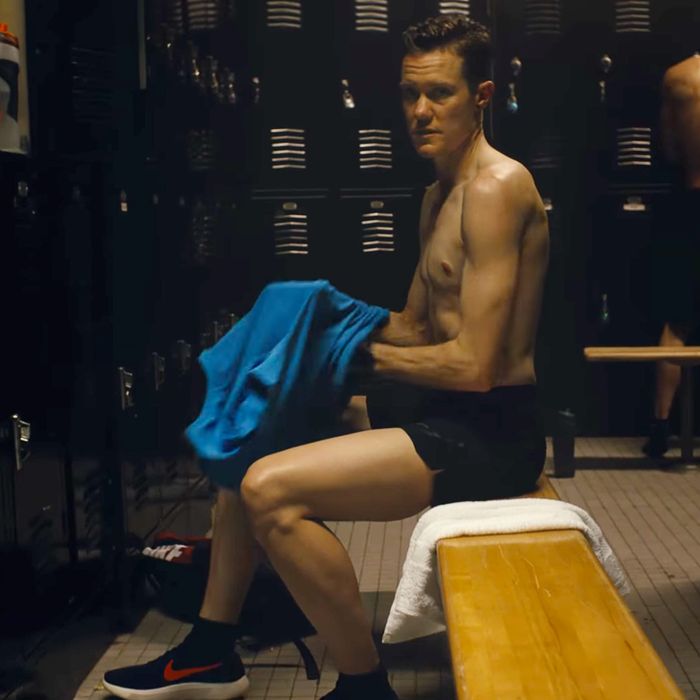 Chris Mosier in the Nike ad.
Chris Mosier's groundbreaking year continues: On Monday night, the New Yorker became the first trans athlete to appear in a Nike commercial, and it was broadcast in prime time during the evening's Olympics coverage on NBC. 
Mosier is the first out trans athlete to make a U.S. National Team in duathlon (run-bike-run). He represented Team USA in the ITU sprint duathlon world championship in June and finished 26th among 47 men in his age group. In July, Mosier became the first trans athlete to appear in ESPN the Magazine's annual "Body Issue."
In the 30-second "Unlimited Courage" ad, the camera follows Mosier as he trains and a narrator asks him how he knew he'd be fast enough to compete against men or that he'd be allowed to compete at all. The answer: He didn't. Didn't he ever want to give up? Yes — but he didn't.

Mosier added in a statement: "I didn't know if I would be competitive against men; I just did it. Every success that I've had since then has shown me that anything is really possible. By not stopping myself, not limiting myself and just really going for it, I've learned a lot about myself and also had the opportunity to further the conversation on trans inclusion in sports."

Duathlon isn't an Olympic sport, so Mosier won't compete in the Games, but his success against cisgender men led the International Olympic Committee to update its policies for trans-athlete participation in the Olympics and other international events earlier this year.
Previously, the IOC required that both trans men and women undergo reconstructive genital surgery. Now trans men can compete in the male category without restrictions, and trans women can compete in the female category once they demonstrate their testosterone levels have been below the legal limit for one year. (The NCAA already had similar rules in place.)
As Mosier told the Cut in January, "I'm not an Olympian, but there will be [a trans] Olympian someday."