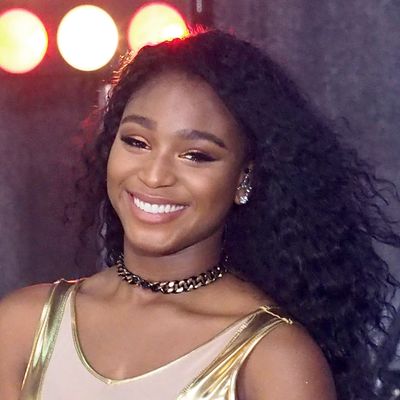 Photo: Paul Zimmerman/Getty Images
Fifth Harmony's Normani Kordei is taking a breather from Twitter, after massive fan backlash over a perceived slight against fellow band member Camila Cabello.
The band, which was created One Direction-style by Simon Cowell after solo appearances on The X Factor, has never suffered from interpersonal drama, but the attacks on Kordei were unleashed after she wasn't equally effusive about Cabello as she was about her bandmates during an interview. After describing the positive attributes of Ally Brooke, Lauren Jauregui, and Dinah-Jane Hansen, Kordei sort of fumbled for a way to describe Cabello: "Camila … she is … let's see. Camila. Very quirky. Yeah, very quirky. Cute."
After blowback from fans — and the media fanning the flames over "bad blood" — Kordei took to Twitter on August 5 to "address foolishness manufactured by those that have absolutely no idea what goes on," with a lengthy note admonishing critics. "I have shown nothing but commitment for the success of Fifth Harmony, even promoting on my days off but yet I always find myself as the target of unjust hate and slander." A day later, she posted another note detailing the tsunami of online abuse that had been directed at her.
I am taking a break from Twitter for now. Over the past four years of being in the public eye I've learned to grow a thick skin to critics and those who may not like me. I've never been one to deny anyone of their opinions, but over the course of this last week and especially over the last 48 hours I've not just been cyber bullied, I've been racially cyber bullied with tweets and pictures so horrific and racially charged that i can't subject myself any longer to the hate.

I'm not the first black female celebrity to deal with this and I'm sure I won't be the last. I want to take this moment to say Love goes much further than hate in this world. Hiding behind a computer and putting people down, especially for the color of their skin doesn't make you cool, it makes you a coward!
Kordei also thanked Twitter "for immediately jumping into action when they were alerted to the situation." It's unclear what exactly that entailed, but Twitter has been under fire lately for not acting quickly or effectively enough against abusive users, especially those who attack women of color.
The most recent high-profile example of this is the experience of Leslie Jones, who was bombarded with racist and misogynist insults, images, and threats the week after Ghostbusters hit theaters. It took Twitter CEO Jack Dorsey 11 hours and thousands of tweets from fans and famous people to reply to Jones directly. Twitter has since perma-banned conservative blogger and professional troll Milo Yiannopoulos, but shockingly enough, that hasn't stopped the legions of egg avatars from attacking users they disagree with. In Kordei's case, some of the abuse was presumably from fans of the band itself.
Cabello, who has been focusing on solo material, tweeted, "You don't have to hate on somebody else to support me — I don't appreciate it and it's not what I'm about … Be kind or move on."