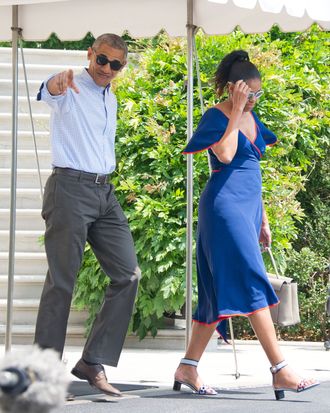 As is their yearly tradition, the Obamas are on summer vacation on Martha's Vineyard, or, as it's more commonly known to locals and visitors, "The Martha." And while the First Family's previous vacations on the little island off the coast of Massachusetts have been relatively low-key, in Obama's last vacation there as the president there's a new boss in town, and his name is Vacation Dad.
As reported by the AP, Obama has been really letting his hair down this go-around, going out on the town four nights in a row. And that's not all. On Sunday night (the Lord's day, for crying out loud!), Obama assembled his motorcade at 11 p.m. to take him and Sasha, Malia, and Michelle for a night out that didn't end until 1 a.m. on Monday. Here are the extremely juicy details:
On Sunday, after Obama had already played golf for about five hours, the small group of reporters that accompanies the president in public was released for dinner, but told to reassemble at 8:15 p.m. After a two-and-a-half-hour wait, Obama's motorcade rolled down the dirt driveway of his secluded rental in Chilmark, on the island's western tip.

Thirty minutes later, and after a circuitous route on largely darkened roads through five of the vineyard's six towns, the motorcade pulled up to Lola's in Oak Bluffs, on the other side of the island. The White House said the First Family, a description signifying the inclusion of Michelle Obama and daughters Malia and Sasha, had joined friends for a "social event" at the Southern seafood restaurant.
There is no word on what went on at this so-called "social event," but, if we had to guess, probably a little bit of the Cha-Cha Slide, a heart-to-heart with Malia Obama about how proud he is of her, and not one but two gin-and-tonics.