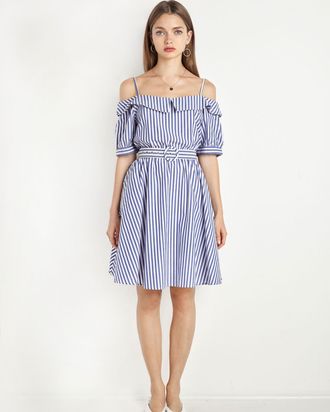 Every week at the Cut, we're highlighting one great purchase that won't take up your whole paycheck. If you're looking for a splurge instead, check back every Friday for one great purchase that's worth eating ramen noodles for the rest of eternity.
If you let your impulses rule, you'd probably wind up buying every single item on trendy millennial-approved e-comm boutique Pixie Market's website, but before you let your shopping addiction take precedence over your reason, just buy this tailored striped dress instead. Its cold-shoulder exposure lets the air hit you in all the right places, and at a more modest length, it can even be suitable for less formal office environments. Style it with an easygoing pair of espadrilles or play up the summer vibe with a straw bag and delicate ballet flats.
Pixie Market Alice off-the-shoulder stripe dress, $104 at Pixie Market.