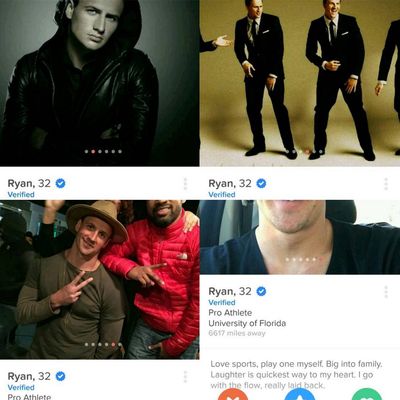 Photo: sportsswipe/Instagram
What happens when you put the world's fittest people, all with a ton of pent-up athletic energy to burn, together in close quarters for a few weeks? They do sex! Duh! (Hence the reason the Olympic Committee distributed a record 450,000 condoms to athletes prior to the Games.) And even Olympic athletes find partners the same way you do: one swipe at a time.

Swimmer Ryan Lochte's already revealed that he's on Tinder, but now, thanks to an Instagram account, you can see what his page supposedly looks like. (Of course Ryan Lochte loves to laugh.)
The anonymous user behind the account sportswipe, which tracks athletes' alleged Tinder profiles, created another page specifically for the Summer Games called rioswipe — and it's certainly what we'd call … active.

Enjoy it now, before all these people find out about Raya.