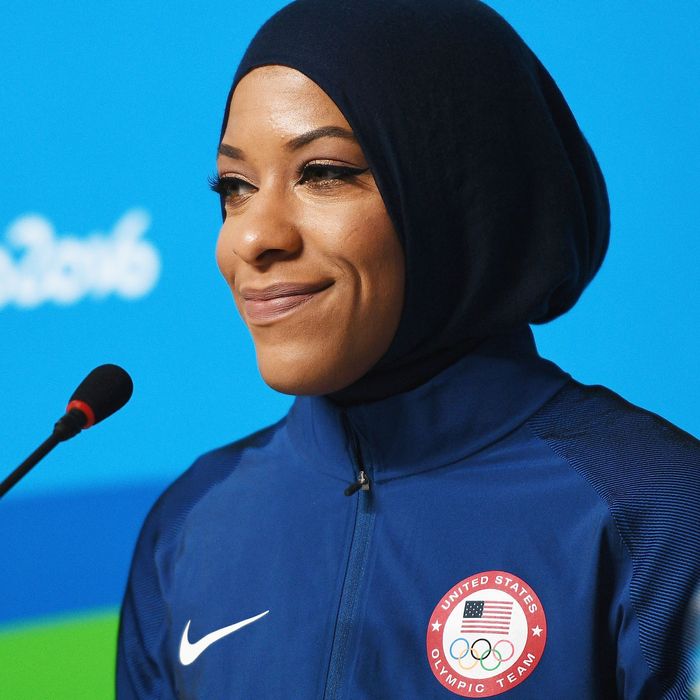 Meet Ibtihaj Muhammad.
Photo: David Ramos/Getty Images
The day after Friday night's Olympic opening ceremonies in Rio de Janeiro, Ibtihaj Muhammad will wake up bright and early for the first round of women's fencing. Muhammad has won the All-American fencing championship three times, grew up in the suburbs of New Jersey, and is also a devout Muslim, making her the first U.S. athlete to compete at the Olympics in a hijab. "I'm just your basic Hijabi Zorro," she told ESPN.
The 30-year-old native of Maplewood, New Jersey, graduated from Duke University in 2009 with a double major in international relations and African-American studies, and a minor in Arabic. Her father is a retired narcotics detective, and her mother is a special education teacher. "Something I definitely struggled with as a kid was traveling to different schools and different communities and hearing that I made people uncomfortable because of my skin color, because of my religion," she said.
For Muhammad, part of fencing's appeal is its full-length uniform, which even covers her hijab and, as she put it, "liberates" her: "Being covered allows people to see me for my skills and my ideas."
She's a relative latecomer to fencing, which she picked up in middle school. She's also a relative latecomer to the Olympics — according to The Wall Street Journal, the only Olympic fencer older than Muhammad is Mariel Zagunis, for whom Rio will be her fourth games. "It wasn't a dream of mine," she said. "It almost seemed like a dream of people around me."
But after graduating from college she committed to chasing it full-time, and she lived at home, worked as a substitute teacher and fencing coach, and launched her own clothing line to fund it. Every weekday she'd take the PATH train into New York City to train. By the time she arrived in Rio, she was the second-highest-ranked fencer in the U.S. and number eight in the world.
Muhammad has also been a vocal proponent for Muslims and Muslim-Americans and, despite her prominence, has faced discrimination herself. Last April, a man in Times Square asked Muhammad if she was a "terrorist" who was there to "blow something up," and an official at the SXSW festival in Austin demanded she remove her hijab before he took her official photo because, "you're in Texas now." "At first I thought he was kidding," she said of the incident. (The festival has since apologized.)
And, like many Muslims, she's alarmed by the rhetoric of the Republican presidential nominee and his ilk. "Unfortunately, we have people who are in the presidential race who are providing a platform for hate speech and fearmongering," she told the Daily Mail. "They're creating a space where it's acceptable to speak out against immigrants, to speak out against Muslims and to really publicize this inherent racism that I feel a lot of people have. It creates a really scary environment."
"When I hear people here say they want to throw all Muslims back to 'their' country, I think, 'Well, where am I going to go?'" she told ESPN. "I'm American, you know? I've never questioned myself as an American or my position here. This is my home … I feel American to my bones."