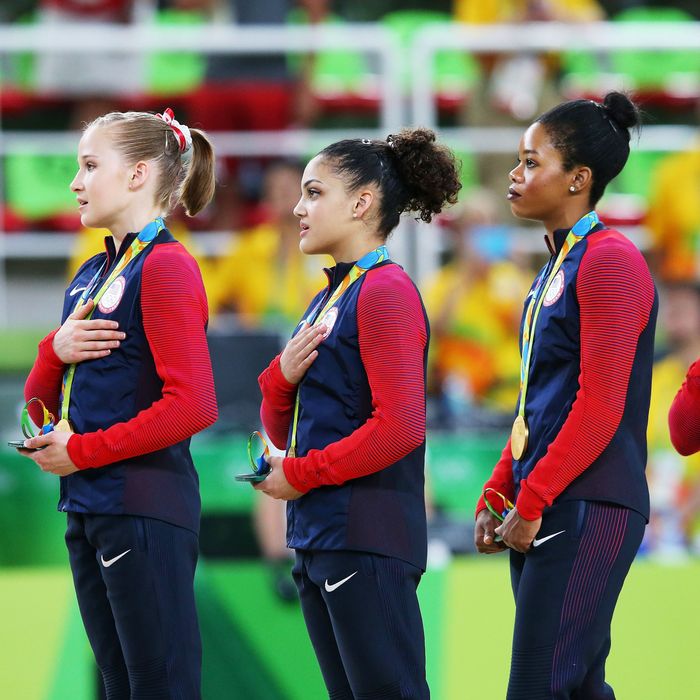 The Final Five.
Photo: Alex Livesey/Getty Images
Yesterday, the U.S. women's gymnastics team won an Olympic gold medal by the largest margin ever recorded under the current scoring system, and they did so with panache, style, and slicked-back hair. Much like the sport itself, gymnasts' hairstyles have evolved over the years, from bouffants to bowl cuts to bangs to messy buns, and this year's Final Five opted for understated looks that kept the focus on their ferocious athleticism.
Women's gymnastics has always walked a weird line between celebrating femininity and punishing its athletes for being female. But although the sports' inherent obsession with physical appearance (not to mention its queasy history of sexual abuse and warped body image) is problematic, it's a bit of a stretch to say that the hairstyles of the gymnasts competing at the Olympics are the result of oppressive sexism, as Slate's Rebecca Schuman argues.
More likely, they're the result of gymnasts taking whatever's trendy and turning it into an efficient way to keep their hair out of their face. Take the bowl cut of 1980 Olympic all-around champion Elena Davydova — not only was it serviceable, but it recalled Princess Diana's feathered crop, which influenced hairstyles for decades. Then came the feathered-bang-and-scrunchy style, which served the same dual purpose: Not only was gymnasts' hair was out of the way, it also recalled '90s stars who popularized the look in the first place.
Like the Olympic gymnasts of the early '00s, I wore glitter in my hair as a competitive dancer because hey, in the early 2000s, glitter was the thing. And those little ponytail poofs Nastia Liukin and Shawn Johnson sported on the Olympic podium a few years later were just as on-trend as Madison Kocian's braided bangs and Simone Biles's twist this year. It makes sense that, like other Olympians, gymnasts conform to the style of the times when it comes to their hair, just as they likely do off the mat.
The official guidelines for USA Gymnastics stipulate only that an athlete must be "well groomed in her appearance," and the Fédération Internationale de Gymnastique Code of Points — the scoring system used at the Games — goes into extensive detail about leotards but doesn't mention hair at all, so it's pretty much up to gymnasts to decide how they'll style themselves for what could be the most important meet of their lives.
As Simone Biles's mother told NBC for its Better Know an Athlete series, Biles "loves girly stuff, so she loves to shop and she loves to get her hair done, her nails done. She likes to feel pretty." And sure, it's not great that much of our society still equates "looking pretty" with, say, looking like Giselle Bündchen. But if Biles's beribboned ponytail (or Madison Kocian's braid or Aly Raisman's bun) keeps her hair out of her face and makes her feel good, it's a symbol of empowerment, not of oppression. To quote one Kim Kardashian: Can they live?