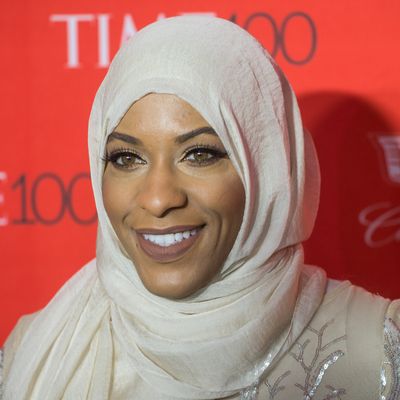 Photo: Mark Sagliocco/Getty Images
Olympic fencer Ibtihaj Muhammad made a quick stop at The Late Show with Stephen Colbert to go "en garde" with the host himself before she flew off to Rio for the 2016 Olympics. Not only did she school him on the fencing tip, but she also gave the audience an FAQ on wearing a hijab and growing up as an observant Muslim.
Muhammad, who was named one of Time's 100 Most Influential People this year, will be the first American to compete in the Olympics in a hijab.
"I remember as a kid being told I couldn't do things, because I was African-American or I was Muslim … In our society, people have misconceptions about Muslims in particular right now, and I want to challenge those misconceptions and show people that Muslims are productive members of our society here, and we do a lot of things — including participate in the Olympics for Team USA," she told Colbert.
Ibtihaj Muhammad also has her own fashion line, Louella.
"There was a void in the Muslim community for modest clothing — we're always buying things from overseas — and to have it made available, and not just have modest clothing but have it be affordable and fashionable. You can find modest clothes in the States, but they're not always cute," she told the Daily Beast.
Get excited for Muhammad's Olympics events by watching her give Colbert a taste of the old sabre.