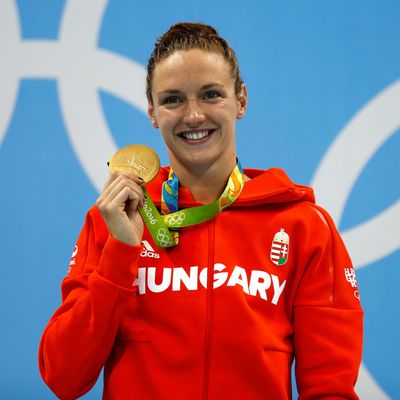 Photo: Clive Rose/2016 Getty Images
Hungarian swimmer Katinka Hosszú killed it last night in the 400-meter individual medley, breaking a world record and earning a gold medal in one fell swoop. Why did commentators give her husband credit for the win?
Hosszú was dating Shane Tusup in 2012 when she asked him to be her coach. She'd had a very rough go of it at the London Olympics, and afterwards fell into a deep depression. According to a fascinating profile of the couple in the New York Times:
After the London Games, she retreated to Hungary before returning briefly to the University of Southern California, where she had trained in the leadup to the Olympics. Over the next several months, she buried her old self and hatched the competitor who became known as the Iron Lady. With input from the United States-born Tusup, Hosszu increased the degree of difficulty of her competitive programs.

Her reasoning was that the more events she swam in a day, the less pressure she would put on herself to be the best in any of them. Tusup's logic was that Hosszu, a newly minted professional, could double or triple her earning power by stacking her competitive program. His idea, which defied convention, was to train less and race more.
Tusup's poolside behavior is read as enthusiastic and loving by some viewers, but some who witness it firsthand find it alarming.
The Times profile describes the following scene at an event in Arizona:
After the backstroke, Hosszu avoided making eye contact with Tusup, who upbraided her while swimmers from other teams stared. Tusup continued his critique in the warm-down area, where two people said they overheard him suggesting to Hosszu that she stay in the water and drown. The night ended with Tusup kissing Hosszu on the forehead and pulling her close in a long embrace on the deck.
Gold-medal-winner Jessica Hardy used to train with Hosszú, but Tusup told Hosszú to stop being friends with her, back in 2013. Hardy told the Times, "I've seen a lot of inappropriate and not-okay behavior in Shane … I've seen coaches exhibit that kind of behavior in training, but this is another level. It's scary."
Although Hosszú herself gives her husband/coach a lot of the credit for her transformation and success, that doesn't mean his volatile behavior isn't a red flag. At the end of the day, Hosszú broke the world record, Hosszú won the gold, and Hosszú stood on the podium by herself. And she's got more Olympic events to come.