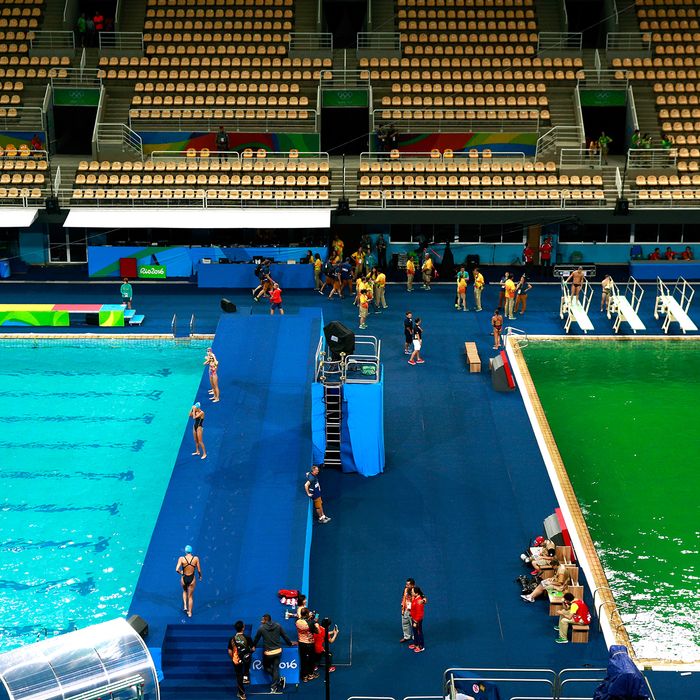 Photo: Adam Pretty/Getty Images
In one of the "What the hell just happened?" moments at the Rio Olympics, women divers woke up on Tuesday to find the diving pool they were set to compete in had mysteriously changed overnight. Instead of the clear, chlorine-filled blue water from the day before, they were faced with murky-green pool water that looked like something out of the slime-filled Nickelodeon Kids' Choice Awards or simply the world's largest green Jello shot.
Olympic officials initially didn't really have any idea how the whole thing happened but said they were investigating it. "We don't know exactly what happened," organizing committee spokesman Mario Andrada said, according to SFGate.com. "And we don't know yet why the pool changed colors." They did, however, reportedly test the water and found that it didn't pose any health risks for the divers.
There were plenty of theories on the internet as to why the water changed but by evening, officials confirmed what most had suspected: An algae burst had turned the water green, a spokesperson for the games told the Associated Press.
The water-color change also freaked some people out since there was already some major concern over the quality and safety of the water off Rio's beaches. That concern was highlighted when a July investigation by the Associated Press found "dangerously high levels of viruses and bacteria from human sewage" in some of the venues. At least one long-distance swimmer also warned swimmers to consider the risks of competing.

While there's some valid concern about the waters outside in Rio, the pool waters should still be a safe bet — at least health-wise. Some divers said they had trouble seeing in the water because it was that cloudy. (Gross!)
Officials said the water should be clear and blue by Wednesday. Now, if only the divers had received extra points for taking the plunge into the green abyss.