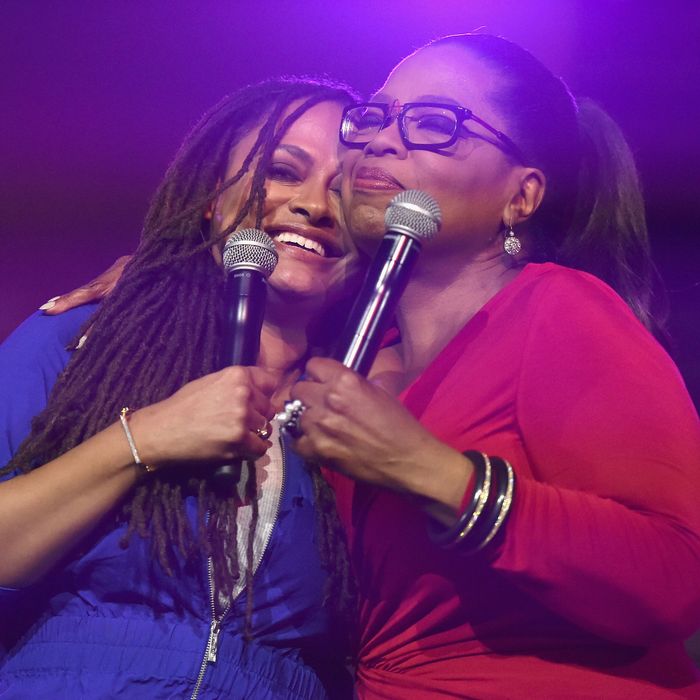 Oprah Winfrey and Ava DuVernay.
Photo: Paras Griffin/Getty Images
Oprah Winfrey and Ava DuVernay, Hollywood's newest dream team, sat down for a joint interview with The Hollywood Reporter to discuss DuVernay's OWN shows Queen Sugar and Greenleaf (starring Oprah), how Black Lives Matter informs their storytelling, and the persistent lack of opportunities for minorities in Hollywood.
While DuVernay continues to break new ground — her forthcoming feature A Wrinkle in Time (also starring Oprah) marks the first time a black woman will direct a film with a budget over $100 million — she doesn't want your applause. "Forward-thinking people and allies of this cause within the industry have the common sense to know that this is systemic," she says. "There needs to be more done than applauding one or two people who make it through your door."
They also discuss the very language we use to frame conversations about inclusion in the entertainment industry. In the past, DuVernay has said she hates the word diversity ("a medicinal word that has no emotional resonance"), and Oprah, for whom diversity used to be a buzzword, says her thinking has changed on the matter.
DUVERNAY We aren't sitting around talking about diversity, just like we aren't sitting around talking about being black or being women. We're just being that.

WINFREY I will say that I stand corrected. I used to use the word "diversity" all the time. "We want more diverse stories, more diverse characters …" Now I really eliminated it from my vocabulary because I've learned from her that the word that most articulates what we're looking for is what we want to be: included. It's to have a seat at the table where the decisions are being made.
With Greenleaf, Queen Sugar, and A Wrinkle in Time, it does feel like an exciting time for black women both onscreen and behind the scenes ("I'm telling you," promises Oprah of Queen Sugar, "black Twitter is gonna blow up.").
But whatever you do, please don't call it a tipping point.
"It's ridiculous when you say, 'More than we've seen in a while,' and you're talking about, like, seven shows," says DuVernay. "It's tragic … and the African-American part of the conversation is just a sliver of it; Latino representation is horrible, Asian Pacific Islander is worse, and Native American is criminal. So shame on all of us and the powers that be who allow that. It's not right, and all we can do as artists is continue to push and ask the audiences who care about this to push as well."