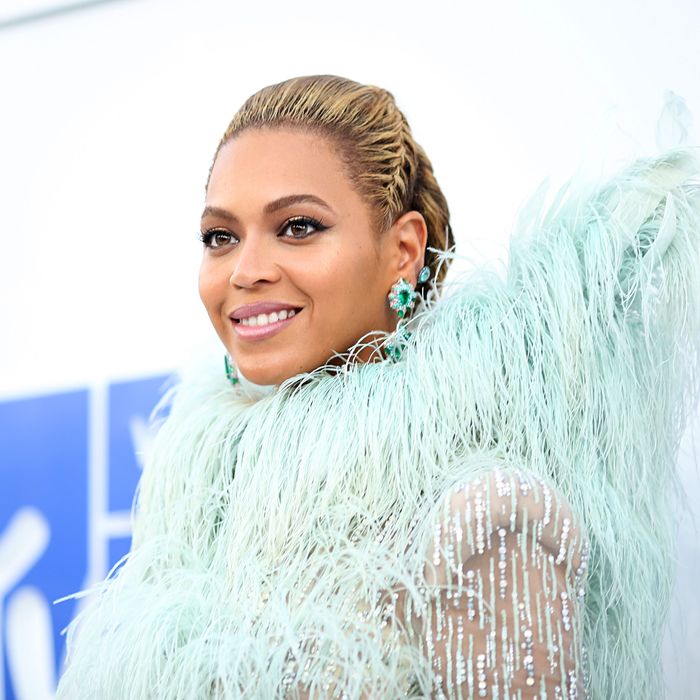 Photo: David X Prutting/BFA.com
As the Cut's fashion market editor (Lindsay) and associate beauty editor (Ashley), we get invited to a lot of things, but this year's Video Music Awards presented a rare opportunity. Not only was it a chance to see performances from the likes of Rihanna, Ariana Grande, Nicki Minaj, and Britney Spears, but it was a do-over — a shot at redemption for both of us. Back in June, we'd tried to meet Beyoncé on her Formation tour, and we had failed. When the VMAs invitation arrived, we knew what we had to do: Pull together our best looks and try to meet the queen.
Lindsay, 12 p.m., Sunday, August 28: As I'm getting my hair done, I text Ashley, "We are hours away from being in the presence of the holy ghost." Then I go back to Googling my favorite Beyoncé VMAs looks, like this 2014 custom Tom Ford jumpsuit that I call 'Take me to church Beyoncé.'
Ashley, 3:30 p.m.: I slip on a pair of Spanx and a Self Portrait bodycon dress from Shopbop. Damn, you look good! is what I say when I catch my reflection in the mirror.
Lindsay, 4 p.m.: I'm in love with my navy blue Nili Lotan dress from Shopbop. I love the way this dress fits, the color against my melanin. It doesn't hurt that I've managed to borrow two diamond tennis bracelets, drop chandelier earrings, and a stunning necklace from William and Henri. I mean, how am I going to get Beyoncé's attention if I'm not dripping in diamonds?
Ashley, 3:45 p.m.: Lindsay hands me a diamond necklace, earrings, and a bracelet. I feel like Elizabeth Taylor, though I bet Elizabeth Taylor never worried about getting mugged on the subway.
Ashley, 4 p.m.: I start spackling my face with makeup. I dot color corrector and concealer under my eyes. I blend Charlotte Tilbury's Magic Foundation all over my face. I brush BlackUp's contour stick under my cheekbones to help me look less bloated. Sweeping a loose powder all over, I lock in all of that face goo in a matter of ten seconds. I line my eyes with a pencil liner and then attempt to apply glue to a few fake lashes. I quickly realize I can't do this and say Fuck it. I swipe on a few layers of mascara and then dab a nude gloss over my lips. Trust me, I'm a beauty editor, and I'm ready to meet Beyoncé.
Lindsay, 4:15 p.m.: I'm going for a celebrity-on-the-red-carpet glow, so I use plenty of Tatcha products, and then Ashley teaches me how to contour my clavicle with three different highlighters. (Beauty editors play no games).
Ashley, 6 p.m.: Lindsay and I arrive at the red carpet for the VMAs. The carpet isn't red, actually, but white. No sign of Beyoncé just yet.
Lindsay, 6:30 p.m.: I didn't realize the awards were sponsored by Trojan until I saw girls taking selfies with condoms. It's still too early for many red-carpet arrivals, but an attendant hands me a pamphlet that lists all the celebrities with descriptions so that we can recognize them. As I flip through, I realize Beyoncé isn't on it. She doesn't have to be.
Ashley, 7 p.m.: "Celebrities" are beginning to walk the carpet. A star from Teen Mom breezes by. I find myself saying "Who?" to Lindsay a lot. "Girl, I don't know," she keeps saying back. Where is Beyoncé?
Lindsay, 7:30 p.m.: I've seen a few people I like: Amber Rose, Justine Skye, the adorable Olympics gymnastics team. Every time a new person walks by, Ashley taps me and says, "That's, uh, I can't remember who that is," something that would never happen to Beyoncé. And then all of a sudden, I hear the DJ say Beyoncé's name and get a peek at her sea-foam green fur collar and everything goes dark.
Ashley, 8 p.m.: After Beyoncé, it becomes apparent that the other A-list celebrities aren't walking to our section of the red carpet. Nev Schulman is approaching us. His very pregnant fiancée is wearing an open jacket with nothing underneath. I refrain myself from tweeting something mean because that would make me a bad feminist.
Lindsay, 8:15 p.m.: I've had a career-related realization: I could never be a publicist. The amount of begging that goes on on these red carpets is ridiculous. One manager even asked, if I wasn't going to interview her client, then could I at least clap when she walked by?
Ashley, 8:30 p.m.: A publicist asks me if I want to interview yet another Teen Mom star. This is the opposite of meeting Beyoncé.
Lindsay, 8:35 p.m.: I ask comedian Grace Helbig what I should do to try to meet Beyoncé, and she says, "I think you should give up on that dream, girl!" Things are getting bleak.
Ashley, 8:40 p.m.: As Lindsay and I pile into Madison Square Garden, we're nearly knocked off the elevator by Jeremy Scott. He's at the Awards with Stella Maxwell. I want to ask him how he think we can meet Beyoncé, but we're separated by an usher. Immediately thereafter, I am reminded that your best friends will always put you in your place when one texts me to ask how many Pokémon I caught on the red carpet.
Lindsay, 9 p.m.: Ashley and I watch Rihanna open the VMAs — one of her many performances throughout the night. Kanye gets out of his seat and tells all the celebrities in their little section to stand up for her. We agree she's great, but she's no Beyoncé.
Ashley, 9:45 p.m.: Kanye takes the stage and, in true, Kanye style, says a lot of stuff that only vaguely makes sense. He talks about celebrities all coming together on the same boat, and a very woke audience member in front of me yells "Hey, watch it now." We watch the video for "Fade." My takeaway is that I need to do some damn squats and learn how to dance.
Lindsay, 10 p.m.: I have at least five tabs open on Teyana Taylor's workout plan. Unfortunately, the last time she talked about fitness was in 2014, when she said, "I always tell my mom I'm allergic to vegetables. I'm real funny. Like, if I can't pronounce it or spell it, I won't eat it. I'm more of a fried chicken, baked macaroni — I eat everything. I don't eat healthy at all." This information is not helpful to me.
Ashley, 10:15 p.m.: I tell Lindsay I need to go to the bathroom, but really I just want to see if I can sneak backstage by myself and meet Beyoncé. My plan is aborted when she decides to tag along with me. I bob into the bathroom quickly so I don't look like a damn liar.
Lindsay, 10:20 p.m.: Ashley tells me the bathroom line is extremely long (I now know this is a lie) so I grab some popcorn. After Beyoncé performs, I will need something to keep me occupied.
Ashley, 10:30 p.m.: BEYONCÉ BEYONCÉ BEYONCÉ BEYONCÉ.
Lindsay, 10:30 p.m.: I can't believe she's really here, on stage, in front of us. I'm trying not to blink in fear that I'll miss a moment of greatness.
Ashley, 10:31 p.m.: Beyoncé is on stage and the woman next to me is neither singing nor dancing. I'm worried that she might be dead. If she's dead, should I alert an usher?
Ashley, 10:35 p.m.: I've told Lindsay, "This is my favorite song" at least three times now. I don't think she's noticed. She appears to be having an out-of-body experience.
Lindsay, 10:40 p.m.: I honestly could go home now. Beyoncé revived us all from the dead and there's no point in staying here. Bad move for MTV to wait to give Rihanna the award until the end.
Ashley, 10:50 p.m.: Britney is performing and I genuinely feel bad for her. Don't @ me.
Lindsay, 11 p.m.: Though I stan for Beyoncé, it's for good reasons — one of them being that she's the only person who sang live for her whole set tonight. I can't respect entertainers who don't actually sing.
Ashley, 11:30 p.m.: Beyoncé accepts the Video of the Year award. I realize at this point that I probably won't meet her. I also realize at this moment that even though I love my mother, Beyoncé is more than welcome to adopt me.
Lindsay, 12 a.m.: Aww, Drake is so in love with Rihanna. As soon as he's done talking, Ashley and I look at each other, nod, and head out. We've learned a lot about minor celebrities, clavicle contouring, and ourselves, but we have not yet met Beyoncé. At least there's always next time.