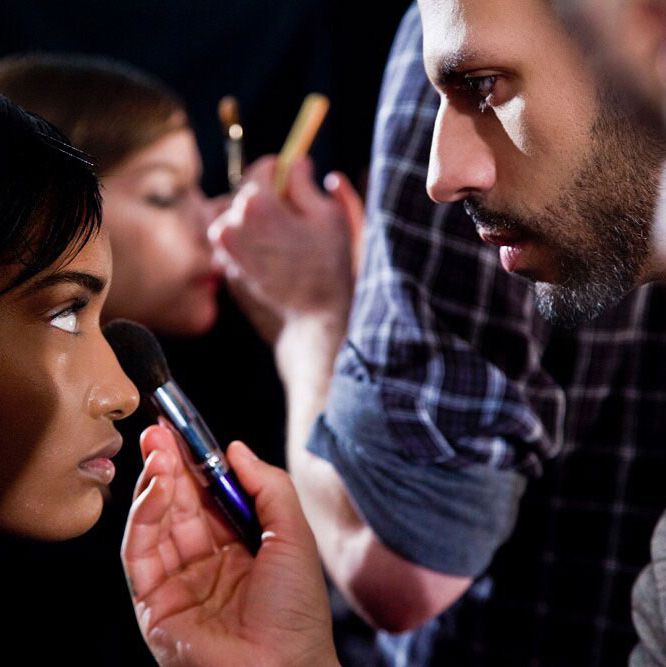 Vincent Oquendo.
Photo: Vincent Oquendo
Pat McGrath, the makeup artist, has an army of assistants who travel with her — most on their own dime — to fashion shows, photo shoots, and advertising campaigns. From 2009 to 2014, Vincent Oquendo was one of them. Born in Queens, Oquendo became a makeup artist at 17 and started working with McGrath when he was 23. When he left McGrath's team, he already had one magazine cover to his credit and a few celebrity clients, including models Bella Hadid and Ashley Graham. He explains what it's like to be a makeup elf.
How did you meet McGrath?
I'd been emailing her agency [Streeter's] for a while. When the fashion shows moved to Lincoln Center, there was a show for Fashion's Night Out. I was one of about 50 assistants on a supplemental team who were all new to Pat. She had the new people work with the old team.
I was so nervous and young and green. You know when you're on set and you ask an assistant to get you something and they walk casually, and then there are the assistants who run? That sense of urgency is what she might have seen in me.
At that first show, the model Arlenis [Sosa] came backstage and she saw me — we knew each other — and said "Vincent?" Pat asked Arlenis if she wanted to sit with me [for makeup] and Arlenis said, "I love Vincent." So Pat walked through the crowd and all the madness and grabbed my hand and said, "Can you do this?" She wasn't asking me in an intimidating way. I said, "Yes, I can!"
The look was a bleached brow. On a Latina girl, you can't just bleach it a platinum blonde. It wouldn't look right on her. It's a really tricky look, but I did it.
I was one of two or three people out of the 50 that she invited to work on the rest of the New York shows. Pat's right-hand personal assistant said, "She likes you, and between you and me, you should fly to Paris. We definitely need more help there." I didn't have very much money but I saved my pennies and went.
I did four, maybe five shows in Paris. One was Vuitton. The look was a dark lip with a gold eye and a bleached brow with a thin brown line through it.  I didn't want to look like I didn't belong, because if you don't think you belong, then Pat won't [think so] either. So I said to myself, "Keep busy, lotion the legs, powder the face, hold the brushes."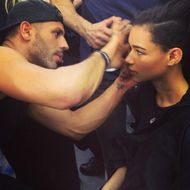 Did you pay your own way?
At the beginning, I bought my own plane ticket to Paris. I stayed in a little studio apartment with three other makeup artists. One girl slept on a blow-up mattress in the kitchen.
For my second season with Pat, I paid to go to Milan. And she put me on every single one of those shows. I was so grateful to have the opportunity to work with Pat. You can't buy that.
After a while I was paid per show. And when I started doing [ad] campaigns with Pat, she started flying me and putting me up in a hotel that was actually comfortable. I was about the third or fourth assistant when I got to work on the Prada campaign with Pat and Steven Meisel. To be on set with Pat, Guido [Palau], Steven, Edward [Enninful] — that really humbles you. It teaches you set etiquette. There's no fumbling. You have to have everything ready.
A lot of people on Pat's team have specialties: They do brows or foundation or lips. Did you have one?
Pat liked the way I did the women of color. I'm Puerto Rican, and the women in my family range from very pale to very dark. Pat is a woman of color and she really understands how to make women of color look great. Makeup can go ashy, or the colors can't read, or they're too vibrant.
I worked on CoverGirl and Max Factor. Pat flew me out to L.A. to do the Janelle Monáe ads for CoverGirl. Pat had to leave early so I worked the rest of the day with Janelle, doing touch-ups. Years later, she became my client.
Why did you leave Pat's team?
While I was working for Pat, in 2013, I was asked to do Jessica Chastain's makeup for the cover of W magazine. I thought there was no way they were going to confirm me. But they did.
Afterward, I called up Streeter's [McGrath's agency] and let them know that I did the cover and that I wasn't able to work with Pat as an assistant anymore on editorial shoots. It didn't make sense for me to assist on a shoot in book if I'd done a cover. I told them I'd work with her on shows if she needed me.
I asked other people what I should do, whether I should bring up the cover to Pat. They said, "Don't rub it in her face." You don't want to throw your ego when you're assisting because it's not about you.
Two seasons went by and I wrote Pat a really nice email, thanking her for all the experience and time she gave to teaching me. I stayed a year after to train other assistants. One friend I recommended got one of the top assistant roles. I helped train her a little bit.
The first time I saw Pat after I left her, it was at a soirée that Kris Jenner threw in Paris. She gave me the biggest hug and I felt like I'd come back home.
It was scary to leave; leaving, being respectful, and the financial aspect — it's just scary all around. And I never wanted to upset her. It would be like making your mom cry. Why would you ever want to do that?
How do you feel now about your years with Pat?
I don't know where I'd be. I'd still be hustling. She taught me how she uses her hand. How she does the skin. It took me two, maybe three years to learn. I wanted to work harder to make her proud.
When I think of Pat McGrath, I think of one of the smartest business minds and her amazing energy. She knows how to make a woman look beautiful and feel beautiful.
This interview has been edited and condensed.