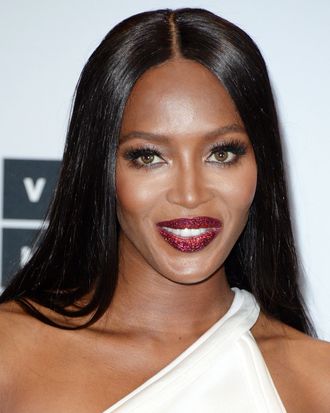 Naomi Campbell in PatMcGrath's Lust004 lips at the VMAs.
Photo: Anthony Harvey/Getty Images
Let's just call Pat McGrath what she is: the Willy Wonka of beauty. She can do a red lip 30 ways, and with her new kit Lust004, she offers 30 more ways — this time with glitter. Hidden in each package of dusty-pink sequins are the tools to create the glittery lip look she invented for Atelier Versace and one fail-proof way to look like Naomi Campbell, who debuted the look at the VMAs.
McGrath gives you the chance to glitterize your lips in three Lust004 color variations: Bloodwine, Vermillion, and Flesh. Each kit contains two different lipsticks that McGrath encourages mixing together to create your own custom color. The Cut tried the Bloodwine kit and found that Blood 1 was a rich true red, while Blood 2 was a sultry plum that Diana Tsui, our resident expert in vampy lips, called "perfect."
The shades are heavily pigmented, smooth without feeling too silky (giving them lots of staying power), and require precisely one coat. You also need a lip brush (unless you are McGrath, who just uses her hands) because this lipstick does not mess around. Q-tips soaked in makeup remover, a good lighting source, and patience also wouldn't hurt. You'll want to paint on the line really slowly — thanks to the richness of the shades, one tremor can mess up your entire lip and you'll have to start over again.
Then comes the fun part — the glitter, which is tiny. Tap it on with your finger or use a brush, and it will adhere to your lips. It's mesmerizing and hard not to overdo it. A very zen-ed out "ooooh" was the collective Cut response to the finished look. Then "cool," followed by roughly 35 attempts to try and capture the effect for social media. "We really need a ring light," I muttered at some point after we commandeered someone to hold a LuMee, a self-lighting makeup mirror, and the iPhone flashlight over our heads. But that's the secret of Pat McGrath Labs: She creates makeup that you can't wait to show the world.
In addition to the red glitter, there's also a gold-glitter pigment, which you can mix in with the tube of lip gloss to create a molten-gold hue similar to her Gold001 release. And if you aren't that into reds, Flesh has shades of dusty and rose pinks which, when combined with the gold, make your lips sparkle like Robert Pattinson's vampire abs in a meadow.

When you are finally ready to hang up your glittery tips for the night, be like Beyoncé and remove it with tape and not a makeup wipe; otherwise it will look like you have some sort of sexually transmitted glitter disease. You might swallow several teaspoons of glitter, but you will be fine.
The collection is technically available now – it debuted yesterday on PatMcGrath.com and crashed the site not just once, but several times. Not to worry: Lust004 also launches at Sephora September 8 (and is available on September 6 for those with VIB status).