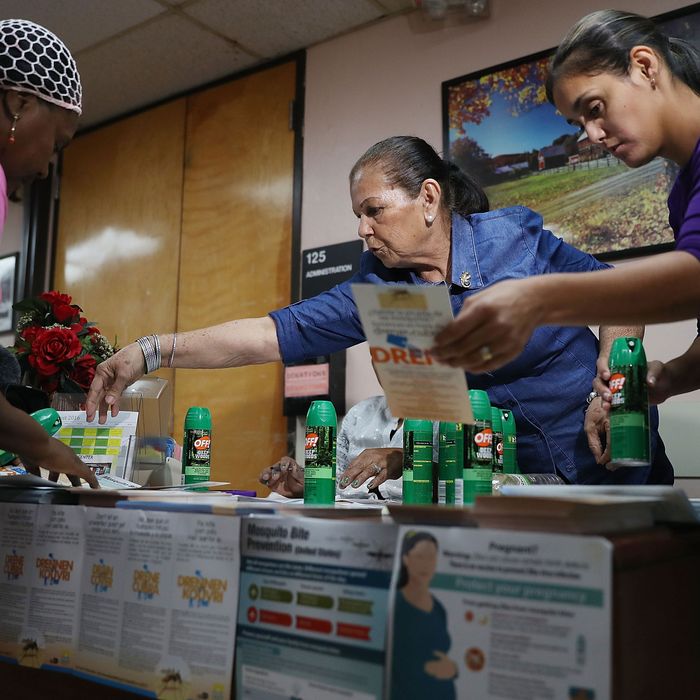 Women pick up bug spray in the Wynwood neighborhood of Miami.
Photo: Joe Raedle/Getty Images
A new poll from the Harvard School of Public Health and STAT News found that 59 percent of Americans believe that women should be able to end a pregnancy after 24 weeks if tests indicated that the fetus had microcephaly caused by the Zika virus, which is heartening until you hear the rest of the results.
The researchers first asked people how they felt about late-term abortion in general and 61 percent said they opposed women being able to have an abortion after 24 weeks while 23 percent said they were in favor.
Then in another poll that focused on Zika (including how the presidential candidates would handle the threat), they asked what people thought about late-term abortions when a doctor thinks there's a "serious possibility" that the fetus would be born with the birth defect microcephaly, which may not be diagnosed until late in the second or even early in the third trimester. People were more forgiving here: 59 percent said they were in favor versus 28 percent who said they were opposed.
Warren Hern, M.D., who performs abortions in Colorado, told STAT it's not "reasonable or logical" that people support abortion in the case of Zika damage, but not in cases of other birth defects.
"There are many, many reasons why women seek late abortion. And many of those reasons have to do with catastrophic fetal abnormalities that are not discovered until late in pregnancy," he said. While neither poll specifically asked about other birth defects besides Zika-related microcephaly, it seems that people may not consider abnormalities when they hear the phrase "late-term abortion."
It's a hot-button topic: 22 states restrict abortions beyond the 24th week of pregnancy and others don't allow terminations past the time the fetus would be viable outside the womb, also 24 weeks. Many of these policies allow exceptions for the life and health of the mother, but in the case of microcephaly and other birth defects, the mother's health would not be affected. Women should be able to choose what to do if they get a life-changing diagnosis.