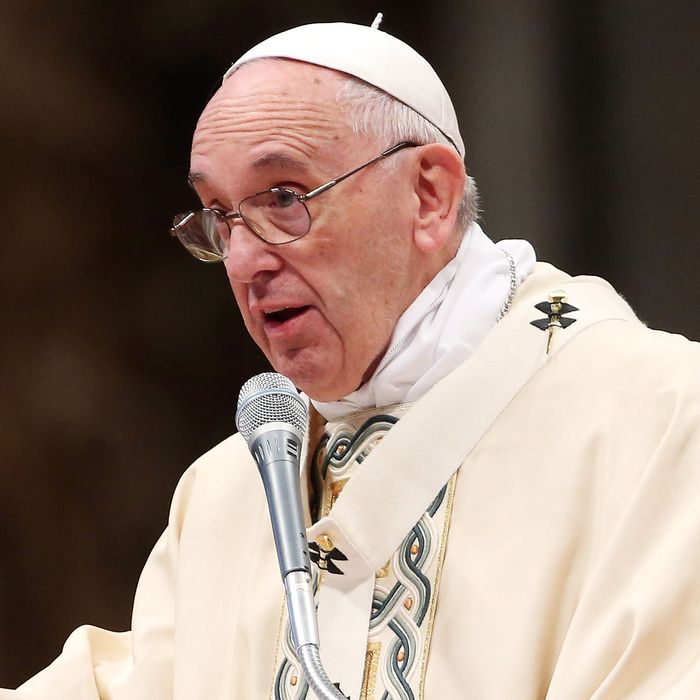 Pope Francis
Photo: Franco Origlia/Getty Images
Pope Francis, due to his relative progressiveness (compared to other Catholic Popes, not exactly the most laid-back people), has been referred to as the "Cool Pope" far and wide since his papacy began. But despite his enthusiasm for Instagram and beauty vlogs, it's essential to remember that many of his viewpoints are still firmly traditional. For instance, the treatment of women within the Catholic Church under his watch has been called into question — and now he's facing criticism due to his recent remarks about transgender individuals.
Last week, during a meeting with bishops in Poland, Francis expressed dismay that some children are being taught about gender identity. In a transcript from the meeting that was released by the Vatican, he says:
In Europe, America, Latin America, Africa, and in some countries of Asia, there are genuine forms of ideological colonization taking place. And one of these —  I will call it clearly by its name —  is [the ideology of] "gender". Today children —  children! —  are taught in school that everyone can choose his or her sex. Why are they teaching this? Because the books are provided by the persons and institutions that give you money. These forms of ideological colonization are also supported by influential countries. And this terrible!
Further expounding on why gender-identity discussions are harmful, he stated, "God created man and woman; God created the world in a certain way … and we are doing the exact opposite."
As for the LGBT community, many members are understandably let down by Francis's declarations, especially since he's come forward to say that the Catholic Church owed gay people an apology for years of marginalization. Only time will tell if his stance on gender identity will catch up as well.