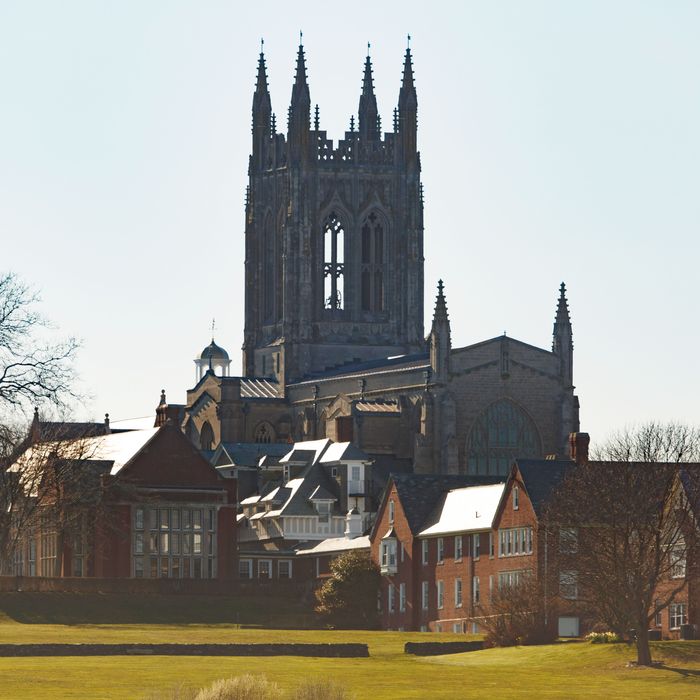 St. George's School in Rhode Island.
Photo: Boston Globe/Getty Images
St. George's School, an elite prep school in Rhode Island, has decided to settle with up to 30 former students who claim to have been sexually abused. Dozens have come forward with stories of sexual abuse dating back to the 1970s and as recent as the 2000s, the Associated Press reports. And in most cases, the school did not report the claims to authorities.
"People feel like this is the school recognizing what they went through," Eric MacLeish, an attorney who represents the victims, told the AP. "Something terrible happened to them, and the school is now saying, 'We're sorry that this happened, that it occurred at our school, and we want to recognize the harm that occurred, and we want to do something about it.'"
MacLeish declined to disclose the amount of the settlement, as did the school, but St. George's did confirm it will work with a mediator to determine how much money each victim will receive.
But Katie Wales Lovkay, who told the school she'd been abused by an athletic trainer in 1979, said it "was never about the money. This was about being heard, and St. George's realized that what they have done to us in the past is completely wrong." She added, "It's nice to know it's done." 
State police investigated the school earlier this year, but no criminal charges were filed. The school and the victims reportedly agreed to conduct an independent investigation, which is expected to wrap up in the coming weeks.
St. George's is hardly the first prep school to be accused of mishandling sexual-assault cases — just last month, another New England school came under fire for suggesting that a student accused of sexual assault atone for his crime by baking the victim bread every week. The incident was eventually reported to police, and the alleged assailant was arrested.