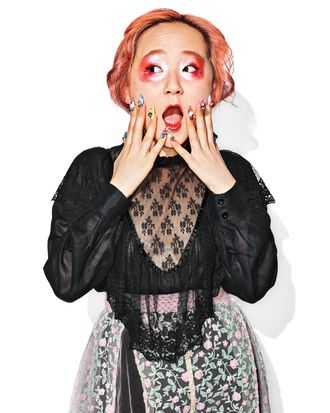 My friends all call me "Fairy."
Photo: Bobby Doherty/New York Magazine
Alice Longyu Gao, Video Producer
Tell me about your look today.
My friends all call me "Fairy." Today, I'm wearing a top from Screaming Mimi's and I'm matching my eye makeup to my hair, which I change all the time.
Where are you from?
A very small town in the Anhui province of China. When I was growing up, my parents were really conservative — my dad is a businessman — and I had to buy my first pair of jean shorts secretly! I went to a very strict school where teachers were allowed to beat us if we didn't do well enough on our exams. I met a girl from Beijing online — we were both in a fan group for this Japanese pop star, Miyavi — who told me she was going to the United States for college, and I was like, Whoa, so I ended up going to Boston University, even though my dad thought sending a girl to school was a total waste of money. I'm a Virgo, so I know exactly what I want and I will always pursue it.
Are you close to your parents?
Well, they still support me financially — even though my dad's business is struggling. But living here is so expensive, and because I'm a Virgo, I really need to be alone. I'm trying to shop less, except I went to a Kyary Pamyu Pamyu concert a few days ago, and she was wearing this amazing pair of shoes from this designer in Tokyo, and I had to order them!
Lightning Round
Neighborhood: East Village.
Age: 21.
Nails: "I get them done at a Japanese salon called Rounge, and it takes about six hours each time."
Eye makeup: "Persian," by Nars.
Favorite store: Dover Street Market.
Favorite designer: Etsuna Otsuka. "She's a Tokyo designer who hand-makes most of my clothes."
Reading: "Jefferson Hack's new book — I think he is so hot; he's my dream type."
*This article appears in the August 8, 2016 issue of New York Magazine.