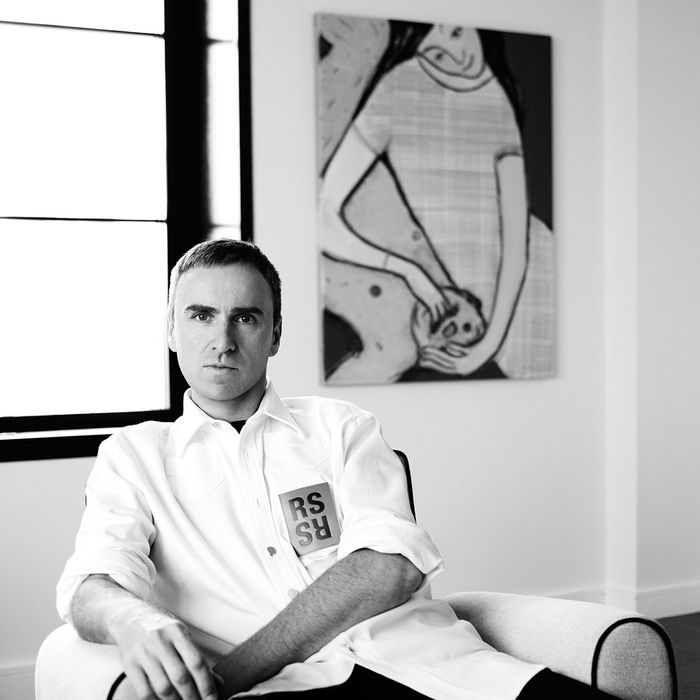 Raf Simons will have unprecedented creative control.
Photo: Willy Vanderperre
Today, the Calvin Klein company confirmed Raf Simons as their new chief creative officer, ending months of speculation. In June, Calvin Klein himself all but announced on a radio show that Simons, the former women's designer at Dior, was headed to New York. Instead of a media blast, today's announcement was posted on the company's social media, and Simons began work immediately.
Simons will have unprecedented creative control at Calvin Klein — a bold move, considering no one has had such freedom since Klein and his partner, Barry K. Schwartz, sold the company in 2002, to Phillips-Van Heusen. In addition to men's and women's runway collections, Simons will oversee design and imagery for the other divisions, including jeans, underwear, and home furnishings. Marketing and advertising will also report to him. Previously, the divisions operated more or less separately, under the unifying banner of the Calvin Klein brand, with its legacy of minimalist high fashion and provocative ad campaigns. Executives considered the runway shows (women's by Francisco Costa, men's by Italo Zucchelli, who left in April) to be marketing tools which helped preserve the brand's fashion prestige, while the real money was made on less pricey apparel.
That approach had worked phenomenally for PVH in the 14 years since Klein and Schwartz sold the company in a deal worth $430 million, plus future royalties. Last year, Calvin Klein had sales of $8.2 billion, and the brand has stayed wired to the youthful obsessions that Klein first fastened onto in the 1980s, by exploiting social media and self-infatuated pop stars — most recently Justin Bieber in the #mycalvins campaign.
Yet in a way, it's exactly that divide that marks the company's creative atrophy. Bieber represents an extension of a successful formula, not a new and exciting direction. In terms of high fashion, Calvin Klein's choices have allowed other labels, like Prada and Balenciaga, to set the pace for the luxury industry. In the last year or two, Demna Gvasalia, the lead designer of Vetements, as well as the new creative director of Balenciaga, has grabbed attention with fresh takes on denim, sweatshirts, and tailoring — former Calvin Klein mainstays. And before he left Saint Laurent earlier this year, Hedi Slimane ditched the brand's artistry for a style that reminded some of Forever 21 — but it worked. The new CEO of Calvin Klein, Steve Schiffman, who took over in 2014, must have sensed that the brand was at a creative standstill and that it needed an entirely new approach. By hiring Simons and giving him so much freedom, Schiffman certainly has the support of Manny Chirico, the chairman and CEO of PVH.
For Simons and Calvin Klein, then, the move represents an enormous opportunity, coupled with a degree of risk. (Why mess with a formula?) The brand might not be on insiders' lists of innovators, but you can't say that it has been tarnished. It's not like the host of European labels — Vionnet, Ungaro, and Paco Rabanne, spring to mind — that has pretty much lost the plot due to endless changes in ownership and talent. Calvin Klein may be the best-known American brand next to Ralph Lauren, hiding in plain sight. It's a gem.
At 48, Simons is in his prime. He cares deeply about what is modern, not merely "creative" — and that's true for art and music, as well as fashion. The underpinning of his early men's shows, in the mid-'90s, was youth culture, while his style touchstones were Helmut Lang and Martin Margiela. What stands out about those shows is how well Simons imparted the attitudes and ideas of a group of young men from Antwerp — in the street casting of models, in the music, in the sometimes monumental settings, in his skinny black suits. Simons influenced everyone. Later, at Jil Sander, he surprised women's editors by injecting romance and color into Jil's minimalism. He also proved to be a great team-builder — essential in a business where there seems to be less and less time to create. He put that skill to use at Dior, where he and his longtime right hand, Pieter Mulier, led a large team of designers to produce six shows a year, plus accessories. (Mulier also joins Calvin Klein, as creative director of men's and women's fashion.) During Simons's three and a half years at Dior, sales rose 60 percent.
What does he get from Calvin Klein? What he couldn't get at Dior — the opportunity to reshape the identity of an iconic brand, from its designs to its advertising to its choice of celebrity models. One reason Simons resigned from Dior last fall was because of the relentless cycle of shows, which left little time to think and experiment. The second reason will seem to contradict the first, but it makes sense when you have as much to offer as Simons: He wanted more involvement in all the creative decisions at the house, and Dior as a company wasn't structured that way.
Today's announcement feels historic; a great designer has crossed an ocean to join a world-famous American label and stir up some fun, at the very moment when designers seem to be questioning the sanity of the business and getting out. The Simons-Calvin Klein hookup expresses the opposite belief — that a designer with vision can make a difference, indeed change the tempo for the industry.