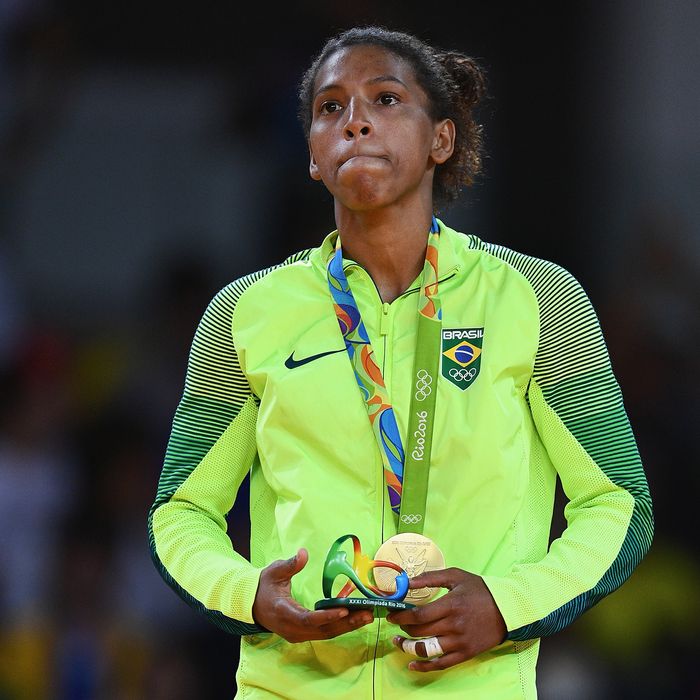 Photo: David Ramos/Getty Images
Rafaela Silva has dealt with plenty of haters during her judo career — including racist online bullies hailing from her own country. In 2012, the 24-year-old faced some ugly, racially charged taunts on social media after she was disqualified from the London Olympics for an illegal leg grab. Things got so bad, she even briefly considered quitting the sport altogether.
Thankfully for Brazil and fans everywhere — she didn't quit. She won. On Monday, Silva won gold while competing in her home country; a win that came with the added distinction of being the first gold medal for Brazil at this year's Olympics.
Silva's win in the 57-kilogram division for judo against Dorjsürengiin Sumiya of Mongolia came after only 47 seconds on the mat. Her win also carried a heavier emotional significance. When she first faced the online racism after the London Olympics, many saw the moment as shedding light on the historical and ongoing racial tensions that the country has struggled with.
Silva's story resonates with some Brazilians, who see her as one with the people. She grew up in one of the country's slums, in a favela plagued with violence, according to the Washington Post. "Everybody here knows Rafaela's history," Eduardo Colli, a Brazilian watching the match, told the Associated Press. "This is more than just a medal, it's a victory for poor people. It's hope for all of them."

Silva long envisioned her moment of glory at the Olympics. The inside of her right biceps features a tattoo of the Olympic rings, according to the New York Times. It's surrounded by a note, which reads in Portuguese: "God knows how much I've suffered and what I've done to get here."