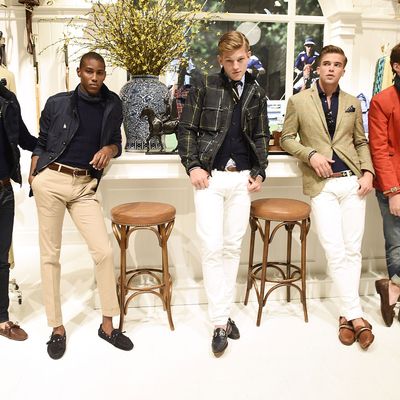 Men's looks from Ralph Lauren.
Photo: Andrew H. Walker/Getty Images
Tweeds, polo-player logos, blue blazers, and rep ties: Ralph Lauren has long been synonymous with the ultra-preppy aesthetic. But according to a report in Business of Fashion, the brand may be struggling when it comes to the gin-and-tonic demographic. The company reported an 11 percent sales dip last quarter, and CEO Stefan Larsson, who took over last year after Lauren stepped down as CEO, has outlined a new plan for the company. On a recent call with industry analysts, Larsson promised "updated classic, iconic style that has an effortless twist. It will cut through and it will be one message and it will be a core that is updated and relevant for today." Part of the problem seems to be a message that one analyst described as "muddled and confused," given that the brand has so many separate labels and facets — from the upscale Purple Label to sport-oriented Polo Sport to Western-inspired RRL.
Instead, younger, modern-day preps are gravitating toward brands like Vineyard Vines and Southern Tide, and accessorizing with Smathers & Branson needlepoint belts. While Ralph Lauren has widened its approach and created its many sub-labels to appeal to variety of customers — from performance-wear-obsessed athletes to hip-hop aficionados to urban cowboys — the Vineyard Vines of the world are focused exclusively on churning out wares for preppy customers, and this undiluted quality may be what appeals to them. As upstart brands like Everlane, Warby Parker, and Under Armour have moved in on the market share of more-established fashion titans, these younger companies are drawing loyal customers away. It remains to be seen whether Larsson's plan will lure them back in.